Administration
President - Dallin Sobers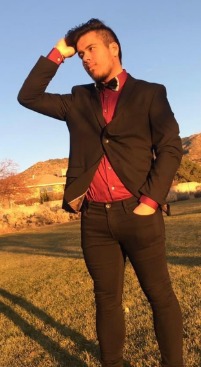 Howdy! My name is Dallin and I'm currently the SGA President and I am also a Chemistry major with a Music minor. My biggest goal in this position is to foster growth in places we're lacking and to continue being strong in the areas we are strong in. This year starting new traditions such as cook-offs and bonfires has been a big area of focus. Spending two years as Vice President allowed me to help change the workings of the Senate and expand the horizon of clubs here at Tech. As President I get to work more with admin to address student concerns and help make changes that benefit the student body. I love bigger events, better food, and longer breaks as much as everyone so I always advocate for good things when I can! Outside of school I'm passionate about Polaroid photography and writing fiction. Some of my favorite movies are Your Name, Whiplash, Hereditary, The Shape of Water. My favorite winner of Hell's Kitchen is Cristina, season 10 but my favorite season overall is season 5. If you see me out and about please say hey or tell me about anything you may want to see changed, created, or stopped. I am here for you!
Vice President - Kenyan Phlieger
Hey, my name is Kenyan Phlieger and I Represent you in the SGA as your Undergraduate Vice President. You may recognize me from around campus, but for those of you who don't, I hope this can serve as an adequate introduction! I am in my sixth year at New Mexico Tech and am pursuing a major in Earth Science and a minor in Geobiology as well as a secondary minor in Biology. I have participated in a few clubs on campus such as AIPG, Geology Club, and was briefly a member of SEG. I have worked on campus in a variety of student positions including the Macey Center and the Mineral Museum as well as both the Bureau of Geology and for the EES department organizing the NMT Fossil Collection. I have served the student body in the SGA for the previous two academic years as a senator in a variety of roles including as a member of the Financial Committee and as the chairperson of the Legislative Standards Committee and finally, as the Chairperson of the Public Relations committee where I worked on a variety of quality of life and outreach projects. I truly care about NMT and its students and want nothing more than to see us all grow and succeed for our time here!
Chief Financial Officer - Chasity Kear
Chief Justice - Mia Karmesin
Hey there! My name is Mia Karmesin and I am the SGA's Chief Justice. I'm pursuing a BS in psychology with a bio minor. I know you may be giving me a dirty look because of that, but just wait because I want to be a lawyer too! The only comfort I can give you is that my interest in the law makes me legitimately enjoy my work as Chief Justice, meaning I can serve you all better as a result. Beyond the SGA I work at the library and am the Vice President of the TriBeta biology club. If you have any questions or concerns please come see me during my office hours or just shout at me while I'm walking around campus.
SAB Chair - Ariana Bustos
Hi! My name is Ariana Bustos and I am a senior here at Tech. I am pursuing a BS in Management of Technology with a minor in Aerospace Engineering. I recently transferred from Pikes Peak Community College in Colorado Springs, where I received my general AS with a focus in Cybersecurity. Outside of school, I enjoy doing work on my cars, volunteering in political organizations, and being a field advocate for the American Foundation for Suicide Prevention. In my time here at Tech, I'd like to focus on making the SGA more organized and helping out with events that will improve students' mental health! Be kind :)
SATD -
Paydirt Editor in Chief -
Alexandra Sartori
Hi, I'm Alexandra. I'm working on a double major in Astrophysics and Geology with a minor in Mathematics. In the meantime though, I'm the Editor-in-Chief of Paydirt. Being a former Journalist for the publication, it's really exciting to get to come back on to the team like this. I'm so stoked to get to help evolve Paydirt into something even cooler than before (is that even possible? school newspapers are already pretty cool to begin with...). Aside from Paydirt and school, I spend a lot of my time climbing, running, and reading (almost always scifi with a sprinkling of Dostoevsky every so often to keep up my cynicism). I also really love putting things in parentheses (was it obvious?). Want to see Paydirt write an article on something specific? Have something you wrote that you want us to publish? Interested in joining this cut throat journalistic team (so scary and cut throat here)? Just kind of bored and wanting to send out a random email? Tell me about it!! I love Paydirt because I love hearing what people have to say. Anywayssss, remember to eat your veggies, kids.

Executive Assistant Officer -
Webmaster - Isaiah Sandoval
I am a small town boi from Grants, NM and I am in my 4th year at Tech. I'm trying my best to get a BS in CS. I enjoy fitness, cooking, videogames, and writing. As Master of the Web my job mostly consists of updating the SGA websites, so if you have any suggestions please let me know! If you see me around campus feel free to say hi!