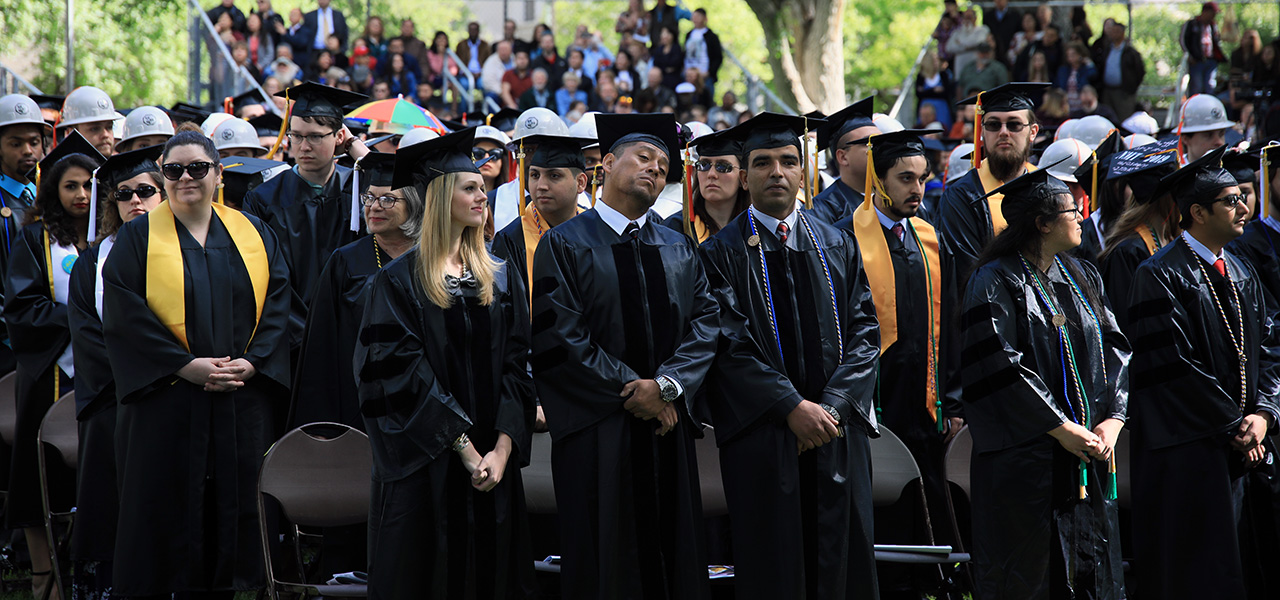 Office of the Registrar
Graduation and Commencement
NMT's SPRING 2023 COMMENCEMENT DATE:
Date: May 13, 2023
Start Time: 9 a.m.
Location: City of Socorro Sports Complex - Rodeo Arena
1 Rodeo Dr. Socorro, NM 87801 Click here for directions!
---
2023 Livestream Ceremony information:
TBA
---
2023 New Mexico Tech Commencement Program (PDF): TBA
The new electronic Commencement Program will contain the traditional content of a program, such as names, degrees and honors for everyone in the Class of 2023, plus additional materials. The enhanced program will include photos, links to department awards, SGA and GSA awards, and links to all of the virtual posts hosted by the various departments.
Click here to view the 2023 Commencement Program.
E-Program and Website Address
The Commencement Committee will distribute the URLs for the e-ceremony by May 13th, 2022.
Best wishes to the entire Class of 2023 and congratulations to you and your families as you persevered and completed your coursework and requirements during this crisis.
Keynote Speaker: Xochitil Torres Small-Under Secretary for Rural Development
---
IMPORTANT INFORMATION for NMT's Graduating class of 2023
NMT is preparing for an in-person ceremony, however, due to the ever-changing COVID-19 restrictions, please keep an eye on this page for the most up-to-date information.
---
IMPORTANT NOTE: Students who indicated that they did not wish their name to be disclosed in commencement materials are not able to participate in Commencement.
IMPORTANT NOTE: If we do not receive a student's Intent to Graduate or Intent to Walk Form by April 14th, 2023, by 5 pm the student will not be able to participate in commencement. There will be no exceptions to this.
IMPORTANT NOTE: Please click here to register your guests. We do not limit the number of guests.
Updates: See top of page for updated ceremony date and time.
See lists below for "walking list" & "Program listing"
---
Honor Cord Info: Honor cord releases are included in graduation packet.
Diplomas will be mailed in June no later than the 15th.
Graduation Pakets can be picked between May 1st and May 11th. Must be picked up in person or by a designated person. Registrar office must be notified of the designated person.
Information in the below selections are not the most up to date information. Please see above information or contact our office at registrar@nmt.edu.
Graduation Information for Students
Caps & Gowns, and Graduation Announcements
Graduation "Conferral" Lists
Walking and Commencement Lists
What to do the "Day of Commencement?"
Information for Parents and Guests
Commencement Ceremony Information and Location
Commencement Announcements
Graduate and Guest Seating during Commencement