---

Showtime: 1:00 - 8:00pm
Online Location: Facebook; YouTube
Location: NMT Athletic Field
No RSVP Required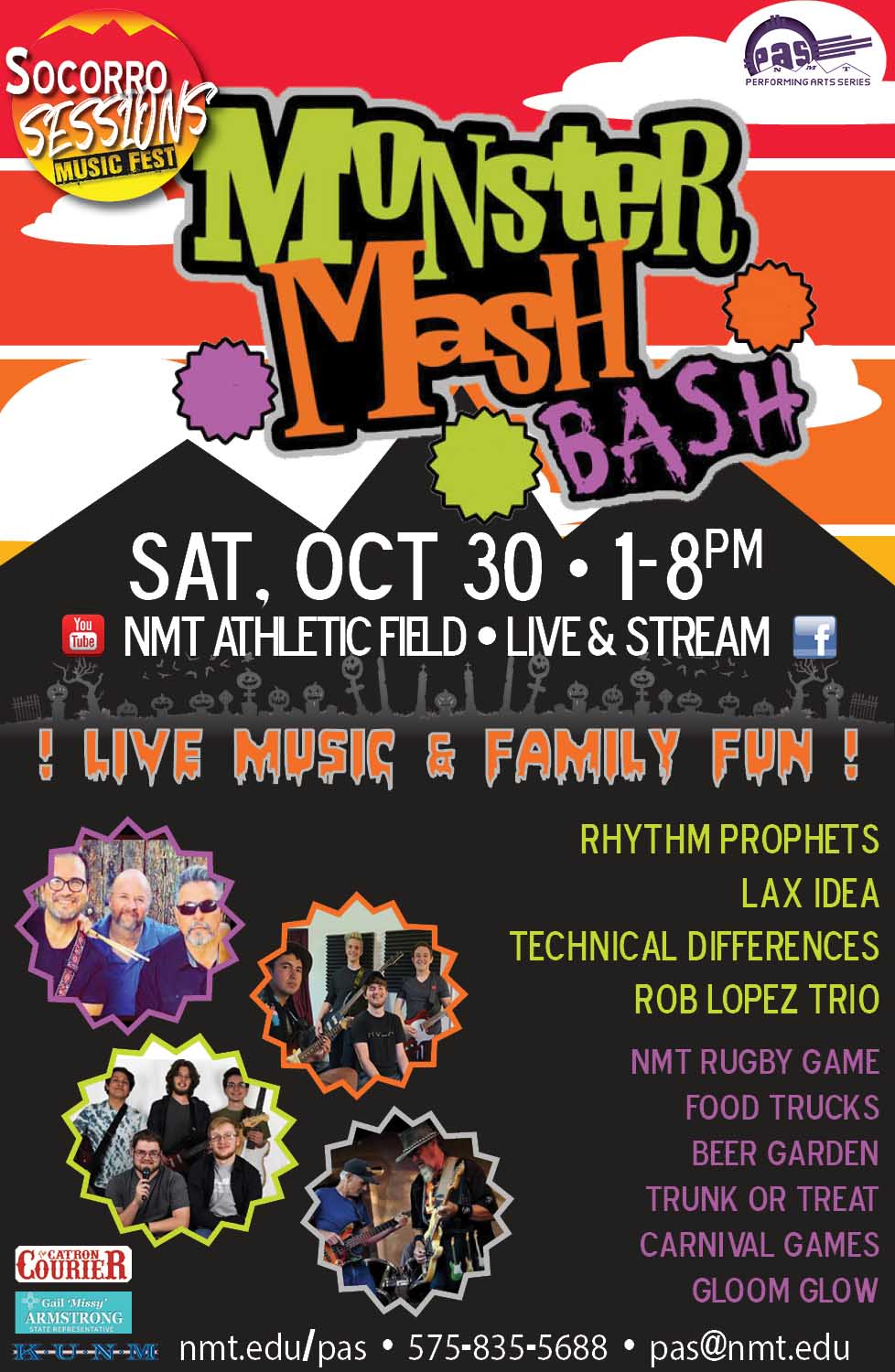 About the Show

Socorro Halloween 2021 style [press release]
SOCORRO–Stress-free trick or treating. Plus a way to get rid of your other anxieties. Sound great? Add games, music, food vendors and even fireworks and you've got Socorro's newest Fest: Monster Mash Bash on Saturday afternoon, Oct. 30.
This new PAS-initiate is a community wide collaborative of many groups. Set at the New Mexico Tech Athletic Field, the day begins at 1:00 p.m. and continues until dark with lots of activities for people of all ages and from all walks of life.
Local businesses and non-profit groups will have trunk or treat stations, with a costume parade round the athletic field leading to the stations giving candy to children, from 5:00 to 7:00 p.m. Carnival games and activities for various ages, from youngsters to college students to adults, are being planned by NMT Residential Life and the City of Socorro Recreation Department, running 1:00-7:00pm.
A giant jack-o-lantern, dubbed Mr. Gloom, will be burned at 7:30. During the day, people may write down their anxieties and worries to place inside, where they will be burned away with the 3-foot-wide piñata. The Socorro Kiwanis Club began the local version last year with the "Covid-19" piñata. Following Mr. Gloom will be a close to the ground fountain firework display.
While the kiddos are busy at the carnival games, and getting and consuming candy, adults may enjoy a round or two of drinks at a beer garden offered by the Capitol Bar.
Then at 4:00 p.m. watch the New Mexico Tech Miners Rugby team take on a team from Albuquerque in a game which has traditionally been the only organized sport played at the university.
Local bands will add to the festive atmosphere during the day. The Rhythm Prophets will start the afternoon at 1:30 p.m. with their version of blues and hard rock. Led by Rod Matcham, the trio of Eduardo Sanchez and Rob Long has long enjoyed offering music at a variety of venues around the state. They were a featured band at a fall Socorro Fest last year, when the world was just reopening. Matcham describes his music as blues to rock but says it gets "a little hard edged sometimes. We have a tight signature. We work really hard to sound bigger than three people and we do a pretty good job of it."
At 3:00 p.m., Lax Idea will take the stage. Lax Idea is a foursome of Tech students playing a mix of indie and alt-rock covers with some punk thrown in. They have played a variety of times and places since first being introduced to the community in August. The band is Chris Roy, guitar and vocals; Russell Durham, on drums; Jackson Vaughn Furr, bass and vocals, and David Padilla, guitar and vocals.
Then at 4:30, Technical Differences, another Tech-based band will play. Technical Differences first played at an April, 2020 Socorro Sessions. The four offer a variety of classic and alternative rock and originals in their own style. They are Andrew Wang, guitar; Seth Sisneros, guitar and vocals; Keith Lucero, bass, clarinet, vocals; and Kody Gray, drums and mellophone.
Music continues at 6:00 p.m. with the Rob Lopez Trio. Known for his hard-driving rock-n-roll sound, Rob Lopez has played around the state. His band the Infidels were for a time the featured group on an Albuquerque radio station. They also were the featured band in an early Socorro Sessions Social Distance live-streamed concert in June, 2020.
The day concludes with the burning of Mr. Gloom which will include a display of fountain style fireworks coordinated by EMRTC, according to Gloria Gutierrez-Anaya, Macey Center director and Kiwanis Club officer. "The current Macey/PAS staff is all about doing events that bring people together, and teaming up with different campus and community groups for everything we do," said Ronna Kalish, PAS Director.
The Kiwanis Club last year held a drive-through Gloom and Glow, Kalish noted. When she told Gloria Gutierrez-Anaya that she planned a Halloween event, they decided to work together. Then they learned that Tech's Residential Life group was planning to offer carnival games and other activities and that the Tech Rugby coach was looking for support for his team. "And that is the barebones of how it all came together, rather is coming together, it is a work in process," Kalish added.
Businesses and local non-profit groups who want to participate in the trunk and treat are invited to contact Gloria Gutierrez-Anaya or Kiwanis Club, gloria.gutierrez-anaya@nmt.edu. Or contact PAS for more information, 575-835-5688 ronna.kalish@nmt.edu or nmt.edu/pas.

Our Partners and Sponsors