---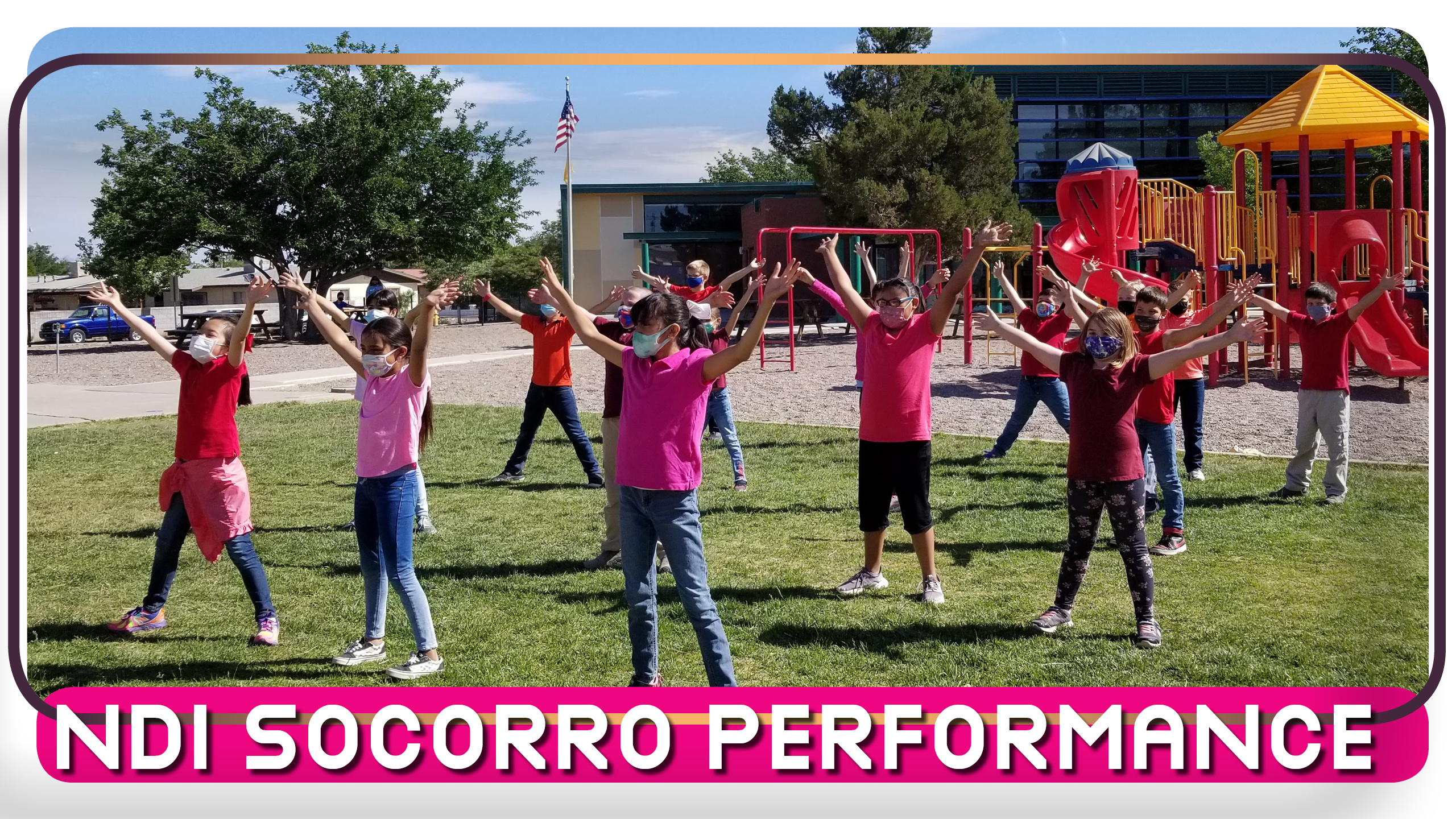 The "Hybrid" Residency - 2021
With 22+years of residencies in the Socorro and Magdalena Schools, this year, the Socorro program returned to our three-week residency for the 4th graders, and after-school classes for the Celebration (CEL) and SWAT (Super Wonderful Advanced...) Teams, except for one small "pandemic" difference--we went "hybrid!" What "hyrbrid" means is that classes were taught online the first week, in-person the 2nd week, and for theater week, each class comes to Macey Center on their designated day, gets into costume, rehearses onstage, and is then filmed/recorded performing their class dance, finale and runs and jumps. This, at least, gives all our participating students a feel for performing live at the Macey Center Theater. Parents of participating classroom students are invited to attend the filming of their kids' classroom dance.
For performances on Thursday, November 18, the Super Wonderful Advanced Team (SWAT) and Celebration (CEL) Teams will perform live and in-person at 1:00pm and 6:00pm, while the pre-recorded classroom dances will be projected on a screen onstage. Both performances will also be live-streamed on the NMTPAS Facebook and YouTube channels.
All Socorro students will watch the 1:00pm performances live-streamed from their schools, except for Midway and San Antonio Schools, whose internet connections are too spotty to watch at their school; they will attend in person.
Tickets to the 1:00pm and 6:00pm performances will be available to SWAT & CEL parents and their families, parents of the students in the classroom dances, who might want to attend with their kids, with 300 tickets available for sale to each performance (50% capacity); we are confident there WILL be some tickets available to the general public.
Masks are required as is providing contact tracing info, name and phone or email.
This year's show is "Rolling on the Rio," all about the great rivers of the world, including our own Rio Grande. It teaches students about geography, history, science and cultures of the world, along with the beloved Core Four: Work Hard, Do Your Best, Never Give Up and Be Healthy!

About NDI New Mexico:
National Dance Institute – New Mexico (NDI NM)
NDI New Mexico is founded with the knowledge that the arts have a unique power to engage and motivate children. The purpose of these distinctive programs is to help children develop discipline, a standard of excellence and a belief in themselves that will carry over into all aspects of their lives. NDI New Mexico's programs teach the Core Four values, encouraging children to do their best, never give up, work hard and be healthy. www.ndi-nm.org
---
Our Partners and Sponsors