---

About the Show
As unpredictable, fearless, and entertaining as their namesake, Le Chat Lunatique purveys an addictive genre they call "filthy, mangy jazz," a signature sound that makes you want to smoke and drink too much—if only you could get off the dance floor. Le jazz hot of Django Reinhardt and Stéphane Grappelli is their north star, but they use that beacon to navigate through a wide range of genres, blending Western swing, classical, reggae, d00-wop, and "anything else we damn well please" into strikingly original compositions and audaciously reworked standards alike.

Le Chat Lunatique is Muni Kulasinghe's theatrical vocals, his violin skittering across the music like beads of water on a hot skillet—inspired as much by a legless Polish gypsy he encountered on his vagabond travels as by the great Grappelli. It's the axe of guitarist John Sandlin, the classicist who fell under the sway of Reinhardt, felling bar after bar of music with ferocious dexterity. It's the slap-happy bass and slyly sweet vocals of Jared Putnam, the sinisterly innocent one whose dark past embraces both death metal and Western swing. It's Greg.
​
The group began prowling the nightspots of Albuquerque -that secret haven of hot jazz - back in 2005, spontaneously impregnating the ears of unsuspecting audience members, who found themselves unable to stop listening or dancing or making merry. From their earliest gigs, Le Chat Lunatique has offered swinging originals with ear-snagging hooks and stories to tell—well-constructed little gems that propagate earworms for ongoing pleasure. Devilishly clever lyrics offer insight into l'amour ("falling in love is like eating tacos"), a louche paean to a doting millionairess ("Buy me a Cadillac, buy me a yacht / Buy me everything that I haven't got"), minatory observations on fate ("the bus of God will run you over"), and the inevitable bitterness of a broken heart ("Miss Lady . . . please do me the courtesy of drinking in some other gin joint").

The band's repertoire also features original arrangements of tunes that stretch from kindergarten favorites ("Frère Jacques") to pop hits ("Straight Up") to swing anthems ("Minnie the Moocher") to Reinhardt classics ("Blue Drag"). Every single tune is more than covered—it's completely "Le-Chat-ified." First, it's dunked in the group's collective musical subconscious, and then they play the hell out of it. Take, for example, Sandlin's inspired gypsy jazz arrangement of Eric Satie's Gnossienne No. 1 - over a reggae rhythm (say what?). Then there's the medieval liturgical intro to "House of the Rising Sun," which ultimately descends into transcendent desperation.

Riding the popularity of their acclaimed first CD, Demonic Lovely, which featured all original tunes, and their follow-up collection of covers, Under the Covers (Vol.1), Le Chat Lunatique has been inducing musical mania in an ever-widening circle—from the South by Southwest Festival in Austin, Texas, to the clubs of England, to the boards of the national theater in Novi Sad, Serbia, where they performed their commissioned score for Lucidity Suitcase Intercontinental's ground breaking theatrical production Flamingo/Winnebago. In their home state of New Mexico, they've won award after award annually for best band, best jazz act, and best song.

Their irreverent humor, their intensity, and their expert musicianship will soon win them your acclamation as the best time you've ever had in public with your clothes on.
About the Artists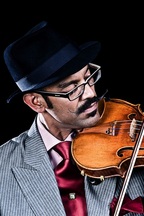 Muni Kulasinghe was born in Albuquerque, New Mexico to Sri Lankan parents and spent his formative school years in the sunny southwest and summers sojourning in serendipitous Sri Lanka. At 7 years old, he began the violin because he wanted to be like his older sister.
At Colorado College, he was lucky enough to fall in with the Bowed Piano Ensemble,with whom he toured much of Western Europe. In Oslo, Norway, during their first tour they were even on the same bill as Herbie Hancock! After university, young Muni went adventuring to Tunisia. That was delightful for him.
Upon his return stateside, he rejoined friends in the Buntport Theater in Denver, with whom he put on plays. He also rejoined another friend, Thaddeus Phillips of Lucidity Suitcase, to create and perform "The Earth's Sharp Edge" at La MaMa Theater in NYC and the Painted Bride in Philadelphia. For one year he again left these august shores to play gypsy swing in Montpellier, France. He learnt a great deal about cheese, wine and not brushing his teeth.
Currently, he plays the violin with Le Chat, teaches Elements of Improv at UNM, manages the Noon Concert Series for the Arts-in-Medicine program at UNMH, and happily does theater with friends when they ask.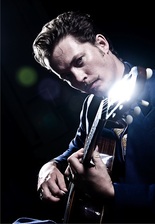 John Sandlin (guitar) has been playing music for twenty-one years. He received his Bachelor of Music degree in Classical Guitar Performance in 2003 from the University of New Mexico. During that time, he studied with the great Michael Chapdelaine, former student of Andres Segovia. In addition to classical guitar, John studied jazz guitar with Michael Anthony, 25-year Los Angeles studio veteran and local jazz hero. John also had the great opportunity to be exposed to many styles of jazz playing in UNM Jazz Bands under the tutelage of Glenn Kostur.
John has played with many local groups over the past decade. The Melizmatix, a lounge-y funk trio, have been the Reptilian Lounge House Band at the Tricklock Theatre Company for five consecutive years. In addition, The Melizmatix held down a weekly happy hour gig at the swank OPM nightclub in downtown Albuquerque. The Sidestreet Strut Swing Sextet, featuring some of Albuquerque's great young jazz players, has been a usual staple at the Tuesday night Swing Dance hosted by Desi Brown of the Primordial Swing Dance Group. Out of this band, John and tenor saxophonist Starr Vavreck formed The Sandlin and Starr Jazz Duo. The Duo has opened for many acts in the Popejoy Lobby, including Ahmad Jamal, The Artie Shaw Orchestra, Al Dimeola and Manuel Barueco, The Benny Goodman Orchestra, and others.

A native of Durango, CO, John also has a great love for reggae music and is a former member of the dub reggae group Sub Agencia. Members included Otto Barthel, former member of the popular local group Giant Steps, and former member of the world famous U.K. ska band The Specials, "Aitch" Harrington "Charlie" Bembridge. Sub Agencia's highlights include opening for The Wailers, Toots and the Maytals, Andrew Tosh, and The Easy Star All Stars. In a brief trucker country stint, John played guitar in the enormously popular Breaker 19, which makes a couple of surprise appearances a year.

Upon making the acquaintance of jazz violinist Muni Kulasinghe, John was able to tap back into the jazz influences of Django Reinhardt and Stephane Grappelli of the Quintet of the Hot Club of France. They started a formidable repertoire of gypsy swing music. Drummer Fernando Garavito and Bassist Jared Putnam soon materialized to form Le Chat Lunatique. The rest is future tense…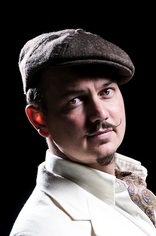 Jared Putnam (bass) has lived in Albuquerque since 1990. That's a long time. He has two kids named Jack and Claire. When he is not happily slapping his bass with Le Chat Lunatique, you might find him: Making music videos with Jack; Making Blue Wall Sessions Videos; Playing lead guitar in Dust City Opera; Teaching kids music at Rock 101; Home improvement; Juggling; Cashiering at the Co-op; Practicing/buying guitars; Waxing his mustache. Here are some things Jared used to do: Study music at UNM; Listen to nothing but Death Metal; Play music with Hector Pimentel, Syd Masters, Lynn Anderson; Live in New York, Iowa and California; Try growing mustaches.

Greg Williams plays Drum and Stick.

Our Partners and Sponsors
PENNY & JIM
LOMMEN