---

Showtime: 7:30pm
Price: $15/Adult; $12/Sr, 65+; $5/Youth, 17<;
Free/NMT Students
Online Location: Facebook; YouTube
Location: Macey Center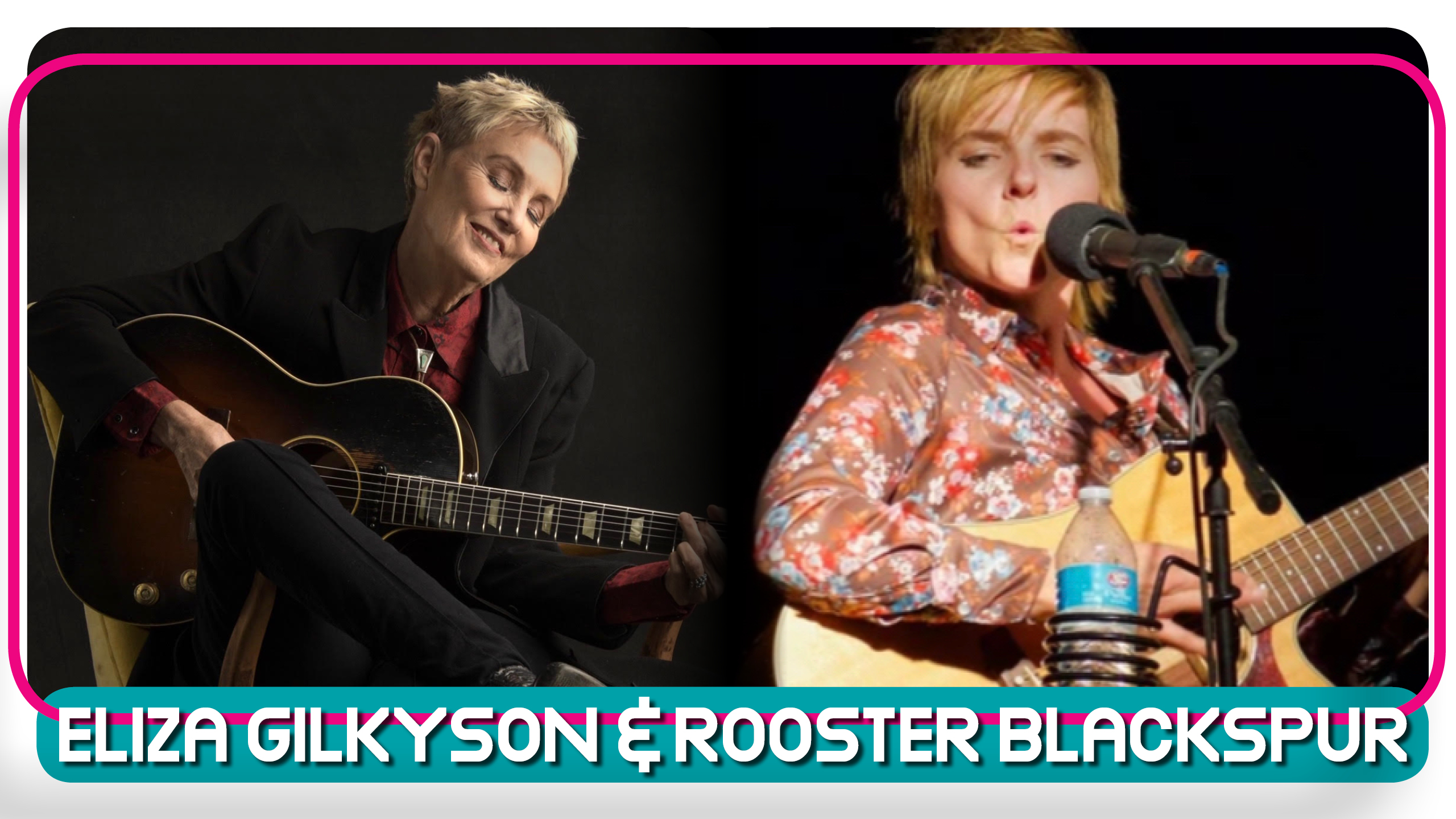 About the Show
Eliza Gilkyson and Rooster Blackspur are two talented, award winning singer-songwriters, with national touring careers, who fell in love with and settled in New Mexico. Eliza lived in Northern NM in the early stage of her career, then moved to Austin, TX, where she stayed until the pandemic hit, at which time her beloved Northern NM seemed a better (and safer) place to dig in. Rooster Blackspur, formerly in the band Moody Little Sister, landed in Truth or Consequences (TorC), NM, a few years ago, fell in love with it, and there she stayed. NMTPAS thought these two would make for a perfect double-bill concert, featuring two poignant storytellers with unique voices in different stages of their careers.

Eliza Gilkyson
"A combination of gravity and grace... Her writing is poetry, something that most
songwriters strive for but not so many actually achieve. The strength of her lyrics
and music help set the work apart." ~ Buddy Magazine
Eliza Gilkyson is a twice Grammy-nominated (2006/2015) singer-songwriter and activist who is one of the most respected musicians in Folk, Roots and Americana circles. Her songs have been covered by Joan Baez, Bob Geldof, The Conspirare Choir, Tom Rush, and Rosanne Cash and have appeared in films, PBS specials, and on prime-time network TV shows. A member of the Austin Music Hall of Fame, and an inductee into the Austin Songwriter Hall of Fame, she has won countless Folk Alliance and Austin Music aAwards, including 2014's Songwriter of the Year.
Eliza's latest release, "2020," is a collection of songs that illuminate the emotional roller coaster ride of the year 2020, looking into the future to a world that is hopefully more just and sustainable. Recently named the #1 Album of the Year on the 2020 FAI Folk Radio Music chart, the album features the political anthem "Peace in Our Hearts," which was written as a rallying cry to be sung at gatherings and marches, and won the "Song of the Year" Award at the Folk Alliance International Conference in 2021.
Eliza is pleased with the regime change in the USA, and to celebrate is now working on a new recording that "takes a temporary break" from politics. This new work, entitled "Songs From the River Wind," due out in fall of 2021 and produced by Colorado multi- instrumentalist/producer Don Richmond, features songs written about characters from her past, and the lives and loves lost and found as she roamed the highways of the West "from the Brazos to the Badlands," inspired by her having recently relocated to the mountains of northern New Mexico. "This homecoming to New Mexico has filled me with joy, connecting me to my past and my deep abiding love of the Old West, as well as highlighting my desire to see those remnants of natural beauty and history preserved and honored.," Gilkyson said. "This recording is my love letter to the West."
"Drawing on elements of folk, country, and Americana, Gilkyson, like contemporaries
Shawn Colvin, Lucinda Williams, Rosanne Cash, demonstrates that the craft of
songwriting, intelligent and lasting, is ultimately in the hands of those who cannot
only turn out a compelling second album, but five, or ten, or with this
Grammy-nominated performer, over twenty." ~ Direct Current Music
Eliza Gilkyson Awards
9/01/14 Grammy Award Nomination–Best Contemporary Folk Album(Nocturne Diaries)
2/19/05 Grammy Award Nomination–Best Contemporary Folk Album(Land of Milk and Honey)
Austin Music Hall of Fame Induction-2003
Austin Music Award–Best Folk Artist (2014,2011, 2006)
AustinMusic Award–Best Songwriter (2014, 2005)
Austin Music Award–Best Female Vocalist (2006)
Folk Alliance International Music Award–Album of the Year (2006)(Paradise Hotel)
Folk Alliance International Music Award–Song of the Year (2006)("Man of God"-Paradise Hotel)
Folk Alliance International Music Award–Best Solo Artist (2006)
Folk Alliance International Music Award–Best Contemporary Artist (2006)
Folk Alliance International Music Award-Song of the Year (2020)-("Peace in Our Hearts"-"2020")
Rooster Blackspur
A born and raised Alaskan Gal who gave up her wild life in the Last Frontier to pursue a calling to be a full-time motivational musician with a message of no-nonsense, love and acceptance. Drawn to the enchantment of the Southwest, Blackspur struck gold when she stumbled into a quirky small desert town in New Mexico nearly four years ago. Emerging from the influence of tireless sun and intense heat, a new sound has been forged in this singer-songwriter, and unholy preacher, the sounds of Southwestern-Soul. She was recently awarded Songwriter of the Year by the NM Music Industry Coalition (NM MIC Awards). The Congregation of Rooster Blackspur has room for everyone. Love is the answer, music is the antidote.
"..where honky tonk angels, goth weirdos, and otherwise disenfranchised
souls can gather.." - Pop Matters
Song Writing Workshop with Eliza Gilkyson, Saturday, September 18, 9:30am til noon at the Capitol Bar, complete with buffet breakfast by Sofia's Kitchen and one drink ticket included. Please bring an unfinished or "stuck" song to work on with the group--no judgement or criticism--a friendly and positive setting. Pre-registration required. Email pas@nmt.edu if you are interested in attending.
---
Our Partners & Sponsors