---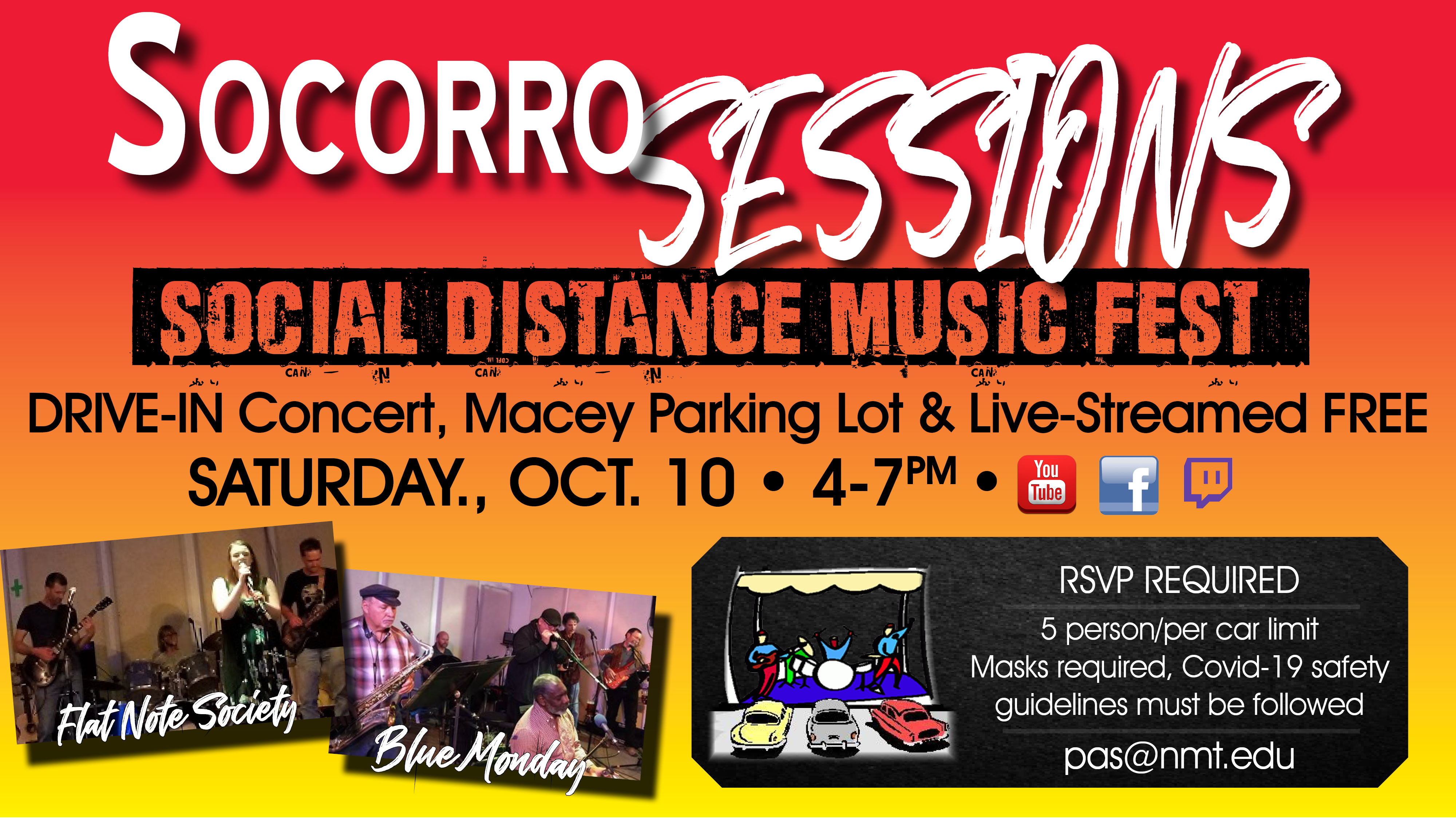 About the Show
Celebrate Harvest with First Drive-In Music Fest
SOCORRO – Are we ready to PAR-T-T-Y-Y?
Was that a resounding "YES"? Then listen up: Socorro's first ever social distance drive-in concert is set for Saturday, Oct. 10 at New Mexico Tech. Featuring two popular local bands – Blue Monday and Flat Note Society ­­– the event will comply with current COVID-19 rules with vehicles parked under the new solar-panel array parking area at Macey Center.
Here's the rub: You must RSVP to reserve a parking space (5-person/per vehicle limit) in order to participate in the free event. "This is our first experience in a socially distanced outdoor setting. This is an experiment to see how it goes," said Ronna Kalish, director of Performing Arts Series (PAS). She is organizing the event as part of the Socorro Sessions, a live-stream series begun this summer which highlights local musicians
She's calling the drive-in concert Socorro Session Fest as it coincides with the timing of the Socorro Fest which ran for 16 years and was centered on the historic plaza. "I'm excited to have this on what was traditionally the second weekend of October. It's a great time of year for a festival since the weather is still warm and people want to be outdoors."
Parking space reservations will be offered first to NM Tech students, staff and faculty, and PAS donors and members, then to the general public. For those who cannot get a space or do not wish to attend in person, the music will be LIVE-STREAMED, as are all PAS events this year, and is FREE. But if you are ready to get out and socialize a la 2020 Covid-style, now is your chance.
"I want it to have a tailgate party feel to it," says Ronna. With 18 feet around each vehicle, participants can set up their chairs and relax outside. "You have to stay in your spot and wear a mask when you are not drinking and eating," she said, noting that alcohol (and pets) will not be permitted.
Even so, there will be plenty to celebrate with two rocking, fun bands. And with plenty of room and good music, it's bound to be a memorable evening.
There will be a food truck on-site, to call or text your order, and have food delivered to your parking space. NMT Students on meal plan can also order a box lunch when they RSVP.
Blue Monday originated as the house band for Manny's Buckhorn in San Antonio in 2007 with Hot Chef Bobby Olguin, playing hot harmonica and percussion, and reigning over an evolving group of musicians. As member Jim Ruff puts it: "Starting at the Buckhorn Tavern in San Antonio with Hounddog Tom Romancik, they played every other Monday, hence the name (Blue Monday). Hounddog left town hot on the trail of an enticing scent and was eventually replaced…." Since then the band has expanded and contracted with new configurations and guest artists. Currently, Blue Monday is Bobby Olguin; Jim Ruff with his ever-present, ever-solid bass, vocals and humor. Gene Cole can belt out a smokey "Stormy Monday" and woo the audience with a crooning love ballad; and sax magician Tom Hunt will have everyone up and dancing with his rich full sound and lightning arpeggios. Former Vigilante band member Bill Giebitz adds his acumen on guitar, with drummer Pierce Mayadag rounding out the sound.
The Flat Note Society is anything but flat note when they offer their versions of classic and modern rock with a few originals thrown in for good measure. With deep connections to both Socorro and New Mexico Tech, the group features Colleen Gino on vocals, guitar and drums; Shelbi Etscorn, vocals; Dylan Etscorn, bass and drums; Will Eveleth, guitar; and Danny Moreno on alto saxophone. "Dylan and I have been practicing and playing together for five or six years," said Will, with the band forming a couple of years ago. They were just beginning to make public appearances when the world shut down. Recently, however, they had the chance to practice together and performed on a Zoom Open Mic, hosted weekly by Jim Ruff.
Both bands seem eager to be performing in front of a live audience. "There's definitely a synergy of energy and feeling when musicians and the audience can see and can react to each other," said Ronna Kalish. After months of only virtual music, this will be a good test to see if Socorro is ready to relax while staying within the necessary guidelines to be safe.
"If it goes well, we'll do more. But you have to RSVP," Ronna emphasizes. To reserve your spot, email pas@nmt.edu or visit their website nmt.edu/pas for more information.
With 40 spaces mapped out for vehicles and another half dozen or so for NMT students who do not have vehicles, attendance is limited. Each car (and NMT Student walk-in space) can have up to five people. "You'll have a reserved spot with a time to arrive," Kalish said, with arrival times starting at 3 pm.
---
Our Partners and Sponsors