---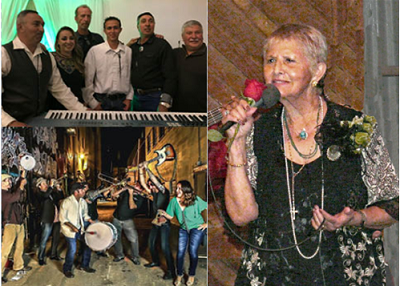 About the Show
Baracutanga
Baracutanga is a seven-piece band representing four different countries (Bolivia, Ecuador, Peru, USA) that prides itself on arranging traditional South American rhythms in new and interesting ways, such as huayño and cumbia with Middle-Eastern darbuka or mixing Afro-Cuban bata and Afro-Peruvian festejo with Andean zampoñas, among several other rhythmic combinations. This kind of experimentation, coupled with blending ancestral traditions with a modern sensibility, has resulted in an exciting and distinct Latin flavor all its own that leaves dancing crowds always wanting more.
Lyrically and musically, Baracutanga proposes to build bridges between the south and the north, overcoming the barriers of discrimination. Aside from their affinity and respect for native rhythms from the lands of their ancestors, the group finds common ground in creating songs those cross-linguistic and cultural barriers, promoting intercultural experiences that empower Latinos with a positive message of self-affirmation. They fervently oppose all types of violence and conceive their music as a vessel to increase and acknowledge cultural pluralism.
Baracutanga's live shows are joyous, intense and explosive with fronting duties split between powerful Peruvian songstress Jackie Zamora and the band's exuberant beating heart, Bolivian multi-instrumentalist Kilko Paz (son of famed Bolivian activist Silvia Rivera Cusicanqui). Added magic comes from extraordinary Ecuadorian multi-instrumentalist Carlos Noboa. The group is rounded out by an extremely talented and inventive cast performing on guitars, horns, flutes, accordions, vibes, an array of percussion and all manner of string instruments and is often joined on stage by Afro-Peruvian and Latin dancers.
Baracutanga's new single and video "Cuida tus Espaldas", mixed by Grammy-nominated, triple platinum engineer Frank "El Medico" Rodriquez (Kinky, Juan Luis Guerra, Daddy Yankee), was released on January 2019. Their debut full-length studio album, Importados, (recorded in Albuquerque, NM, Santa Fe, NM and Cadiz, Spain) was released in September 2015. With multiple regional awards and recognition, performances across the Southwest, Rocky Mountains, and California, with stops in Calgary, NOLA, Austin and México, and an evergrowing fan base, New Mexico-based Baracutanga is ready to spread their fresh take and mix of South American flavors to national and international audiences.
Nina Tolentino - La Dama Romántica de Mexcio
Nina Tolentino loves to sing romantic songs. This combined with a fiery heart and sultry voice is what earned her the honor of being "La Dama Romántica de Mexico." Luckily for Nina and her audience she also loves to drive which is how she became the chauffeur for the woman who would lead her to a professional career as a performing and recording artist.
Born in Mexico, Tolentino had been singing for social events from a very young age but hadn't consider doing it as a profession. In need of work, she became the chauffeur for a woman she calls "Tia Maria." Their relationship quickly changed once Maria heard Tolentino sing.
Maria, having all the right connections in Puebla Mexico arranged for Tolentino to attend a gala at the governor's mansion. She dressed her in the latest designer fashion, jewels and all. Accompanied by Maria's nephew, his sole assignment was to make sure Nina had the opportunity to sing at the gala. Maria's nephew, also a musician, struck up a conversation with one of the band members and asked if Nina could sing a song with them. That's when she was introduced to Jose' Angel Espinoza Aragon A.K.A. "Ferrusquilla" the famous Mexican singer, composer and screen actor. After quizzing Tolentino about what songs she knew he agreed to let her sing a song which turned into an entire evening of performance.
Ferrusquilla, impressed with the young singer offered to help her get started. This was the beginning of a new life of performing and a professional collaboration with Ferrusquilla doing duets as "Nina Y Ferrusquilla." After two exciting years Nina was able to go out on her own.
Tolentino entered into a contract with RCA Records, a relationship that would last 16 years. She produced an album and a multitude of singles including the hit song "Una Historia Mas." She performed at venues throughout South and Central America, Europe and the United States. One of the things she considers an honor was to be included in RCA's 100 Años de Musica.
Tolentino made frequent appearances on TV shows including "Hoy Mismo" and the hit show "Siempre en Domingo." She acted in a number of films including playing the lead roll in the film "Mariachi" about the life of Lucha Reyes, "The Mother of Ranching Music." Tolentino co-starred with David Reynoseo and won the Best Actress Award, given by "Chin De Plata" for Hispanic actors for her portrayal of Reyes. Tolentino says "I am blessed to have had a life where I could do what I loved and be paid for it."
Today, Tolentino, who can frequently be found on the Socorro tennis courts is as vivacious and energetic as ever. She will perform with Mariachi Alma Nuevo Mexico.
The Murillos
The Murillos are a perennial favorite local band, playing on numerous occasions around Socorro County. Having played two concerts, without an audience, for NMT PAS during the pandemic, they are excited to finally be performing for an event with an audience!
Varying combinations of the Murillo family have been playing together for years, said Richard Murillo. "Any time anyone needs us, we play. We enjoy playing together as a family." Other members are brothers George and Patrick with his son Matthew. Lefty Gonzales plays drums.
The group brings out a good crowd, always ready to dance to their music, a wide variety of Spanish favorites, classic rock, country and new sounds. Tori said she is looking forward to singing one of her newest learned songs "Drinking Alone," by Carrie Underwood. "It's kind of a bluesy country song," she said, adding, "I'm a huge fan" of Underwood's.

Our Partners and Sponsors