---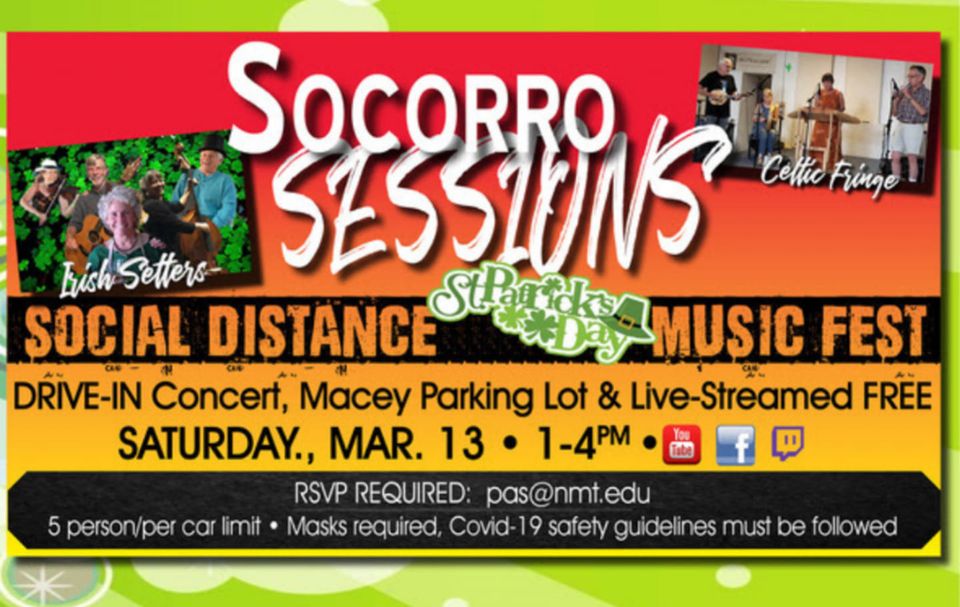 About the Show
SOCORRO – March. One year ago, the world shut down. Now, it's not just the trees showing signs of life. Life feels a bit more normal as the strictures which have held us hostage are loosened. And, for those who missed last year's St. Patrick's Day Celebration (all of us!), we're in luck this year: New Mexico Tech's Performing Arts Series (PAS) fills the bill with a Pre-St. Pat's Fest on Saturday, March 13th from 1 to 4 p.m. The local sponsors for this fest are Jim and Penny Lommen, AUI-NRAO and Jon Morrison; they all love Irish music!
The afternoon of music will feature two popular bands The Irish Setters and the Celtic Fringe. The drive-in concert, ala COVID-19 style, will be under the solar-paneled parking lot at NM Tech, complete with Cubish Food Truck, who will have their usual Irish-Cuban fare with a few extra menu items special for Celtic Fest. Attendees must rsvp by emailing pas@nmt.edu to receive a form, or download the form above and return by email. The concert will also be streamed on Facebook, YouTube and Twitch, links above.
The afternoon begins with Celtic Fringe (changed since El Defensor Chieftain's article went to print). All the members of this group have some connection to NM Tech, said Martha Cast Cather, "either as students, staff, professors or all of a combo." Similar to the Irish Setters, the Celtic Fringe is part of the traditional St. Pat's Celebration in Socorro. They first played together in the 80s, with some going – and returning– over the years. Jeff Havlena was a student back in the day; he moved away and now has retired here. Amy Blackburn, with her fiddle, is another Tech grad who has frequented Socorro's music scene off and on over the years. Al Stavely and Martha Cather, the two stalwarts who have remained in Socorro, while Chris Carilli joined the group in the 90s, Cather said.
Of course they haven't done much practicing or playing recently, although Martha is a regular on the Wednesday Open Mic online. The last time they played as a group, Martha said, was at a AAUW fundraiser in December, 2019.
"We have this core of tunes," Martha said, adding, "I'm looking forward to once the pandemic rules lessen, to getting out more." She is also hopeful that the Ides of March event will include good weather.
"We pretty much have to have good weather," Martha said, noting that Al Stavely plays the pennywhistle. "If it's windy, the notes just kind of blow away. We used to play during the Civil War Reenactment (in February)," she recalled. "Then literally we played in a hail storm and we said, 'nope too early in the year.'"
Next, the Irish Setters take the stage, playing mostly traditional Irish tunes. For the last five years or more they played at the annual Capitol Bar St. Pat's Celebration. "These are my friends from Albuquerque," said Beth Schmidt Crowder. She joins a group of friends who live and play in Albuquerque as part of the "Cheap Shots," a regional contra dance band. "They migrate south every year to celebrate their Irish roots," said Crowder, who lives in Sabinal and teaches music at Socorro's Cottonwood Valley Charter School
"Regulars at the Capitol may remember Bill Balassi, guitar; Pat Aruffo, fiddle; and Erika Gerety Para, bass and vocals. This year, we're also bringing the newest member of the Cheap Shots, Dave Para, who plays guitar, banjo, vocals, and leaf," Schmidt Crowder added.
Schmidt Crowder is a regular at the PAS-sponsored Community Arts Party but this year was extra busy preparing two daily lessons (one for in-student, another for Zoom). She also hasn't had time to practice either alone or with others. "I'm just trying to get a new string on my guitar," she quips.
"We're delighted to join a more-than-virtual St. Patty's Day celebration at the parking lot of New Mexico Tech's Macey Center, with a drive-up audience. We hope you'll join us in person, in the drive-up, or in the live stream," she added.
It's no blarney that we all hope the luck of the Irish brings sunshine and plenty of warmth and just a wee bit of a breeze. Because everyone's Irish on St. Pat's Day and we're sure you agree it's time to celebrate.

Our Partners and Sponsors
| | | |
| --- | --- | --- |
| | | Jon Morrison |
| | | |
| | | |