---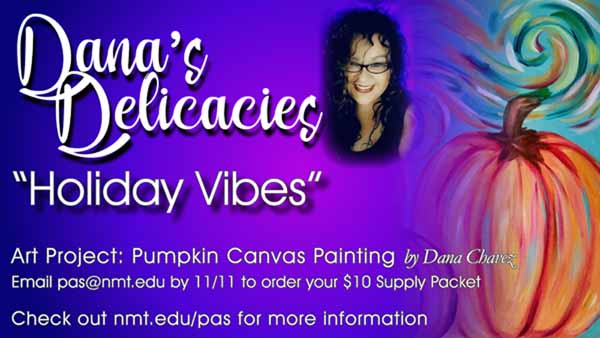 Holiday Vibes
Art: Pumpkin Canvas Painting by Dana Chavez, NMTPAS
Appetizer: Autumn Bruschetta
by Kendall Schroder at Chartwells
Cock(Mock)tail: Autumn Apple Snap by Bartender B.J. Lesperance
Nothing says November like Thanksgiving pumpkin pie. We had so much fun with painting last month, we decided to switch gears and do another painting project, this time we will paint a pumpkin, with some new techniques, twists and turns.
Art Supply List
Look around your home, you might have some of these items
or email pas@nmt.edu by 11/11 to order your $10 Supply Packet
1- 8x10 canvas (board or stretched)
Easel (optional)
Coated paper plate (or paint pallet)
Brushes (1inch flat brush, #9 angle brush, #4 round brush)
Water
Paints: White, Brown, Blue, Turquoise, Orange, Yellow, Magenta, Red, Green
Appetizer by NMT Chartwell's Kendall Schroder
Autumn Bruschetta

Ingredients
Crostini
Diced Granny Smith Apples
Yellow Onion
Honey
Chile Flakes
Bacon
Lemon Juice
Cinnamon
Brown sugar
Paprika
Ginger
Directions
Prepare hot honey - In saucepan, honey warmed up on stove top; stir in chile flakes and paprika.




Stir until warm and spices are evenly distributed. Store in squeeze bottle is preferable but open bowl

and served with a spoon works too.

Bake bacon in oven till crispy; drain and pat dry with towel. Dice into fine bits.

Slice baguette into thin slices for Crostini, spread with butter and grill or toast in oven.

Caramelize onions - slow sautée in skillet til brown; deglaze with water or white wine; repeat til onions are dark brown; season with salt and pepper.

Peel and dice Green Apples - Sautee on low heat til soft; season with salt and pepper,




cinnamon. brown sugar and paprika; deglaze pan with a little lemon juice; let sit in juices til apples are caramelized and flavorful.

Assemble bruschetta with extra butter on bottom and top; apples and onion garnish




with chopped bacon, and finish with hot honey.

Toasted Pumpkin seeds makes a nice garnish as well.
---
Cocktail/Mocktail by Macey Center Mixologist: BJ Lesperance
Autumn Apple Snap
1-1/2 Parts Gin
3/4 Parts Fresh Lemon Juice
3/4 Part Apple Cider
Ginger Beer
Grated Nutmeg & Apple Slice

Combine all ingredients in a high ball glass. Top with ginger beer and lightly stir.
Garnish with grated nutmeg and applie slice.