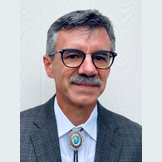 John Saiz
Industrial Fellow
Institute for Manufacturing, University of Cambridge
---
John Saiz is an Industrial Fellow with the Institute for Manufacturing (IfM) at the University of Cambridge.
Formerly the Chief Technologist at NASA's Johnson Space Center, John and the team at the IfM work with manufacturing and technology intensive organizations worldwide to refine their innovation and technology management capabilities.
Since 2014, he has led collaborations with a number of organizations including AstraZeneca, General Electric, Halliburton, Pacific Northwest National Laboratory and Subsea 7.
While at NASA, Mr. Saiz directed a number of technology and flight development projects that included efforts spanning the full spectrum of technology readiness levels from initial proof-of-concept laboratory demonstration through long-term spaceflight operations on the Space Shuttle, Russian Mir and International Space Station. He managed a portfolio of nearly 200 internal research and technology development activities during his CTO post at the Johnson Space Center.