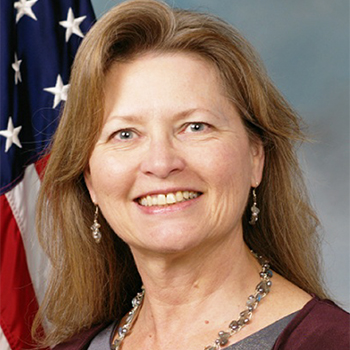 ---
Dr. Yolanda Jones King earned her Ph.D. in 1981 in chemical laser kinetics and is an AIAA Fellow. She served the Department of Defense (DOD) for thirty-two years in research, management of research and development programs, resource management and program planning.
Dr. King retired from the Department in January 2014 and continues to do technical advising to the DOD through SAIC.
She holds a patent in beam sensing techniques and has numerous presentations and publications in directed energy and space technologies.
Dr. Yolanda Jones King is a Regent of the New Mexico Institute of Mining and Technology. Dr. King was the two-term Chair for the NATO Sensors and Electronics Technology Panel (the only women in its history) and also served as the US Representative and Vice Chair of the NATO Space Science & Technology Advisory Group.
She served at the Air Force Office of Scientific Research in Washington DC as Director of the AFRL International Office. During this time, she led a 5-year review team for the Canadian Department of National Defense for two of their National Laboratories (Ottawa and Valcartier). She was previously the Technical Advisor for Space Sensing & Satellite Control for the AFRL, which included the Lead for the Space Based Radar team.
In 1996, she was selected by the DOD and completed a Congressional Fellowship through the Brookings Institute. Prior to her Fellowship, Dr. King was responsible for management of all Ballistic Missile Defense Organization (BMDO, formerly SDIO) technology programs (over $300M/year) for the Phillips Laboratory and USAF Space Technology Center Commanders. Dr. King was at the AF Weapons Laboratory in several research and technical management positions relating to directed energy programs and served on a research and visiting scientist assignment at the Ecole Polytechnique in Palaiseau, France.
Dr. King is also active in the community, having served in the Junior League of Albuquerque, Town Club Sorority Alumnae, as the first woman on the New Mexico Board of Pharmacy and on the very first New Mexico Space Commission. She is active in, and serves on the Board of, the Network for Women in Science & Engineering which works to encourage young girls to enter nontraditional careers. She has worked in the encouragement of STEM and student outreach for 35 years, reaching thousands of young people across New Mexico and the USA.
She is married to former New Mexico Attorney General (Dr.) Gary King.