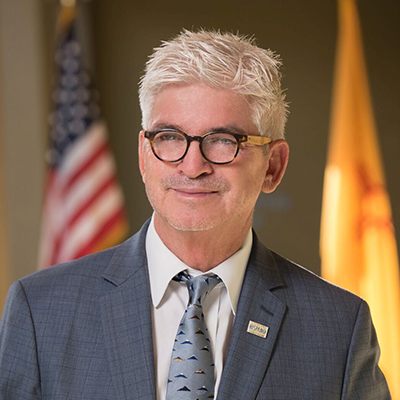 Ernie C'deBaca
President/CEO
Albuquerque Hispano Chamber of Commerce
---
Ernie C'deBaca is President and CEO of the Albuquerque Hispano Chamber of Commerce (Hispano Chamber). Ernie began in that capacity in June 2017 having served prior as the Vice President of Conventions and Tourism for the chamber.
C'deBaca retired from PNM Resources in January 2016 having worked there for 38 years and serving the past 20 years as its Vice President of Governmental Affairs.
Under his leadership, PNM collaborated with various entities, some adversarial, to develop legislation resulting in the Renewable Portfolio Standard and Energy Efficiency laws, among other legislation, that many states have since adopted. Ernie was also a long-serving Board Member at the Chamber and was its chair in 2006.
In his current capacity, C'deBaca leads the Hispano Chamber which is one of the largest chambers in New Mexico and one of the largest Hispanic Chambers in the United States. The mission of the chamber is to promote economic development, to enhance economic opportunities and to provide business and workforce education with an emphasis on the Hispanic and Small Business Community in Albuquerque and New Mexico.
He currently serves on the board of the United States Hispanic Chamber of Commerce and New Mexico Tech's University Research Park Corporation. He has also previously served on boards of the United Way, National Hispanic Cultural Center, the Utilities Executives for Change (University of Idaho), as well as the Bernalillo County/City of Albuquerque Unification Charter Commission.
Ernie is married to his beautiful wife, Geri for 46 years, has two sons, Rob and Seth, daughtersin-law Ali and Maggie, and grandsons Grady and Quinn.