New Mexico Tech Professor Receives Outstanding Mentor Award
Oct. 12, 2022
---
Dr. Jun Zheng honored by New Mexico Established Program to Stimulate Competitive Research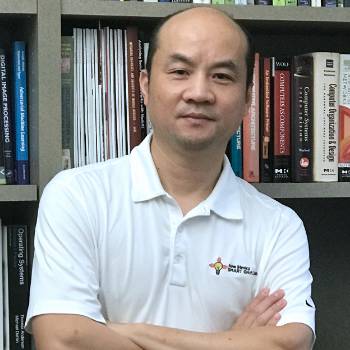 SOCORRO, N.M. – A New Mexico Tech faculty member is being recognized by a statewide research organization for his role as an exceptional mentor to his students. Dr. Jun Zheng, professor of computer science and engineering, is one of two recipients of the 2022 NM EPSCoR Mentor Award. The New Mexico Established Program to Stimulate Competitive Research (NM EPSCoR) recently announced the recipients of the annual awards.
NM EPSCoR said its award recipients "demonstrated characteristics of exceptional mentors, including strong professional and interpersonal relationships; working to advance their mentees' academic, research, and professional goals; and creating inclusive environments for diverse students."
Dr. Zheng, who earned his doctorate at the University of Nevada, Las Vegas, has a mentorship style guided by a set of five principles he has refined over the last 15 years:
Be supportive.
Set clear mentor expectations.
Maintain mutual respect and trust.
Be inclusive.
Create opportunities for your students.
According to NM EPSCoR, multiple mentees nominated Dr. Zheng for the award, each citing a specific time or occasion when his mentorship was essential for their academic success. One nominator said Dr. Zheng made a difference for them when they first arrived at New Mexico Tech.
"When I first came to the Department of Computer Science and Engineering, I did not have any relevant background and did not understand academic research. Based on my situation at that time, Dr. Zheng carefully helped me to plan my studies and choose the right courses so that I could step into the field of computer science," the nominator wrote.
Another student nominated Dr. Zheng for his encouragement to attend a National Science Foundation EPSCoR Artificial Intelligence workshop.
"He emphasized to me that a research meeting is a good place to get to know how others are doing research and I would get a chance to learn how to deliver an idea to a non-expert audience. This inspired me, so I actively participated in the meeting to learn as much as I could. This valuable experience is helping me a lot in my later research," the nominator wrote.
Another student mentored by Dr. Zheng said it was especially meaningful to have him at their side in the final stages of their master's degree.
"I remember in the summer of 2020, I was preparing my master's thesis and defense. I shared my thesis draft with him to review, and saw he was proofreading and commenting on it until 10:00 pm at night. Before my thesis defense, he also asked me to present to him first, and he gave me feedback that helped me pass the defense," the nominator wrote.
Dr. Zheng's current research interests are mobile security, mobile human-computer interaction (HCI), mobile app development, network anomaly detection and visualization, and smart grid security and privacy. He is a member of the NM SMART Grid Center Networking Research Group. The NM SMART Grid Center supports interdisciplinary research on next-generation electric power production and delivery through creation of a Sustainable, Modular, Adaptive, Resilient, and Transactive (SMART) electric grid.