Socorro County Board Honors New Mexico Tech Rugby Team
Aug. 9, 2022
---
National Champions receive recognition at county board meeting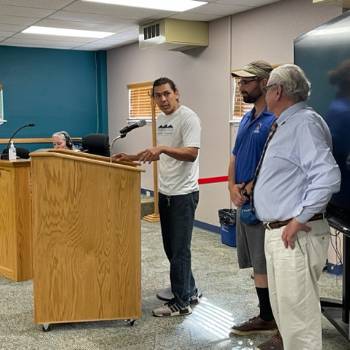 SOCORRO, N.M. – The Socorro County Board today, Aug. 9, 2022, recognized the athletic achievements of the New Mexico Tech Men's Rugby Team. County commissioners held a special recognition ceremony at the start of their regular board meeting.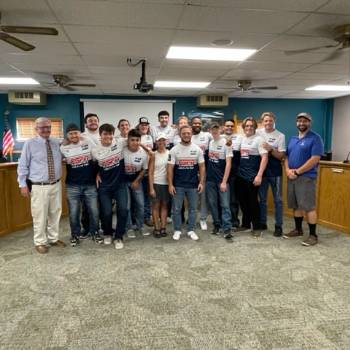 The NMT Rugby Team captured the Small College Division Championship at the the National Collegiate Rugby 7s Tournament in New Orleans in May. The Miners men's rugby team also won the American College Rugby 15s National Championship in Dallas, Texas, earlier this year.
County Board Chair Ray Martinez presented New Mexico Tech President Stephen G. Wells, new rugby team Coach Chris Hathaway, and team members with a special plaque commending the team on their outstanding performance on the field. Martinez praised the players and the university for the recognition the team's success has brought to Socorro County.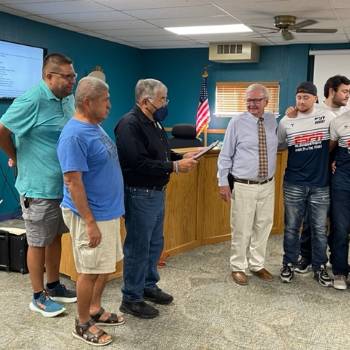 "New Mexico Tech is one of the top schools in the nation," he said.
President Wells said the team's success has brought a great deal of excitement to campus.
"What they've done for the university is bring a level of pride," he said. "These young men are leaders on campus."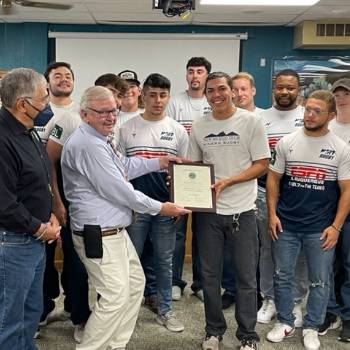 The New Mexico Tech Men's Rugby Team starts its season Sept. 3 in a match against the University of Texas at El Paso (UTEP). The team's first home game will be Oct. 1.
More information about the New Mexico Tech Miners Rugby Team is on its social media sites and online at: www.nmt.edu/physrec/clubs/rugby/index.php