New Mexico Tech Honors Faculty, Staff, Retirees at Convocation
Aug. 19, 2022
---
Inaugural ceremony highlights years of service, awards, grants
SOCORRO, N.M. – New Mexico Tech honored its faculty, staff, and retirees Aug. 19, 2022, at the inaugural Faculty and Staff Convocation Ceremony, an event that combined the annual years of service awards, retiree awards, and faculty and staff awards that traditionally have been announced separately. Hosted by President Stephen G. Wells and his cabinet, the ceremony and dessert social was held at Macey Center Auditorium. A separate student convocation ceremony was held Aug. 14, 2022, to kick off the academic year.
President Wells said the move to a separate event for retiree, faculty, and staff awards was made due to the length of the spring Commencement ceremony and the desire to focus more attention on faculty and staff achievements and contributions, including length of service, research grants, and other awards.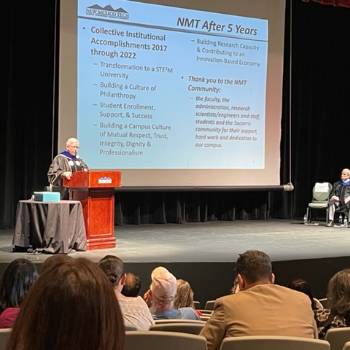 "This change was made so that we can really take the time to highlight these award winners and hopefully inspire future award winners," he said.
Tech's ceremony honored employees who hit milestones in their years of service to the university – 10-, 15-, 20-, 30-, and 35-year awardees – a total of 65 staff members who provided 1,155 years of service. The ceremony also honored 14 retirees from the past year who collectively provided 277 years of service to Tech.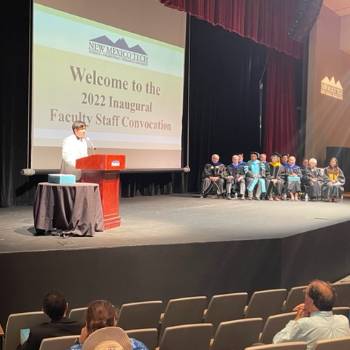 Three faculty members who received awards for research, service, and teaching in May at Commencement were again honored for their outstanding contributions:
Distinguished Research Award: Matthew Heizler, Ph.D.

Distinguished Service Award:

Curtis O'Malley, Ph.D.

Distinguished Teaching Award: Minnie Mao, Ph.D.
Five professors who are recipients of National Science Foundation (NSF) Early Career Awards were honored:
Caitano da Silva, Ph.D.

Alexander Gysi, Ph.D.

Chelsey Hargather, Ph.D.

Kooktae Lee, Ph.D.

Joel Sharbrough, Ph.D.
The Student Government Association (SGA) honored staff member Michael Voegerl, director of the Center for Student Leadership and Engagement and International Programs coordinator, and faculty member Jeff Altig, Ph.D., associate professor of chemistry, for their outstanding contributions to the student body.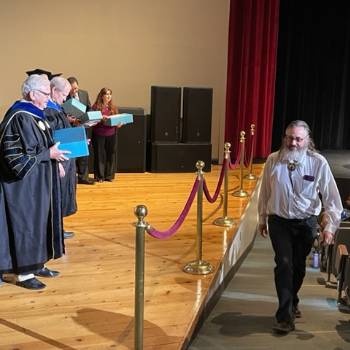 Dozens of faculty members across the university's departments and research units also were honored for the grants they have secured for research projects. Five faculty members were honored for achieving tenure and promotion, and many new faculty and staff members were welcomed to the university.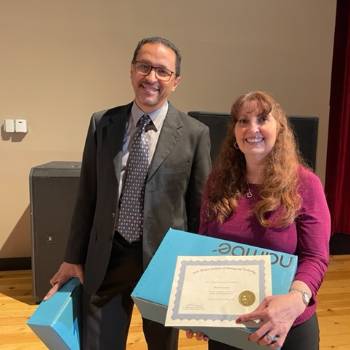 President Wells set the tone for the academic year in his inaugural faculty and staff convocation remarks.
"Everyone here plays a role ensuring that Tech continues its welcoming tradition and culture," he said. "We are working together as a university to not only be a center of academic excellence but also to be an oasis of peace, tolerance, and welcome."