Four New Mexico Tech Students Named Macey Scholars
Oct. 11, 2022
---
Seniors receive university's most prestigious academic honor
SOCORRO, N.M. – New Mexico Tech has named four outstanding seniors as Macey Scholars for the 2022-2023 school year. The Macey Scholarship is Tech's most prestigious academic honor for seniors.
Macey Scholars for 2022-2023 are:
Katherine Krizek, psychology
Elijah Pelofske, mathematics and computer science
Austin Starnes, environmental engineering
Rodrigo Zapata Jr., civil engineering
Macey Scholars are academic standouts and "super-citizens." They represent the best and most well-rounded Tech students – brilliant young scientists and engineers who are involved in their communities and give of their time to worthy causes, according to Elaine DeBrine Howell, associate dean for student success.
The Macey Scholarship is among the most prestigious scholarships awarded at New Mexico Tech. The program is named after 1942 New Mexico Tech graduate William B. Macey. Mr. Macey was among the biggest supporters of New Mexico Tech over the years, including significant contributors to the Macey Center building fund in the early 1980s and the Macey Family Children's Center in recent years. Mr. Macey passed away in 2017.
Macey Scholars are Tech undergraduate students who have a cumulative GPA of 3.4 or greater. Qualified students apply for the program, along with nominations from faculty and staff members, employers, and research associates. Those selected as Macey Scholars receive an award of $5,000.
The selections are based upon accomplishments in the classroom, research laboratory, service projects, volunteerism, awards, honors, and other activities. Each of this year's winners has an impressive resumé full of research projects, internships, volunteer work, and extracurricular activities.
Meet the 2022-2023 Macey Scholars: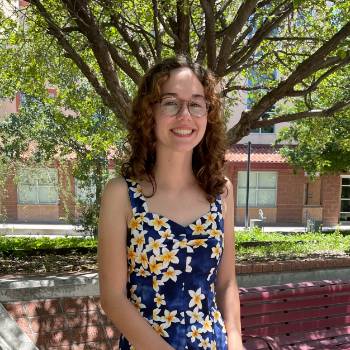 Katherine Krizek - An Albuquerque native who grew up in Las Cruces, Katherine Krizek is a senior psychology major planning to graduate in May 2023 after three years at New Mexico Tech. Krizek's campus activities have involved holding two research positions, one in the Psychology Department assisting Dr. Taffeta Elliott with a frog research project in the lab and at the Sevilleta National Wildlife Refuge, and the other in the Geology Department. She also worked part-time and volunteered.
Krizek said she has learned valuable research skills in the Psychology Department entering and analyzing data gathered from Composition I and II students on study habits and independently running research trials on study habits. After collecting multiple years of data, Krizek said the research is expected to yield effective ways to help New Mexico Tech students succeed academically.
Krizek also assists Dr. Dan Jones in the Geomicrobiology Lab. Performing DNA extraction and microscopy for graduate students' research, she also is working on a microscopy-related project with acidic cave gypsum. Krizek also works part time in the Office of Student Learning (OSL) tutoring students in chemistry, biostatistics, and physics. She previously provided after-school academic assistance to students at Parkview Elementary in Socorro,.
An officer in the Tech Swim Club, Krizek has coordinated schedules and finances and participated in practices. She's also been an active member of the Intervarsity Christian Fellowship and played the cello in the Tech Chamber Orchestra.
Krizek said her extracurricular activities have honed her time management skills.
"These activities are teaching me to actively manage my time and balance my life, which are applicable skills during graduate school and for the rest of my life," she said. "Being a student at New Mexico Tech has been an invaluable experience that has helped me grow academically and in my research skills and aid the Socorro community."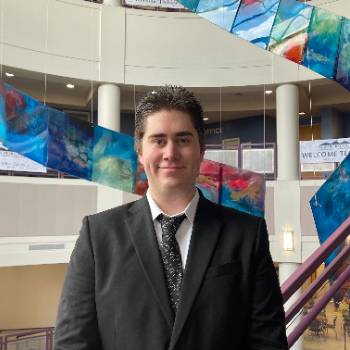 Elijah Pelofske - A mathematics and computer science major, Pelofske grew up in Taos then moved to Los Alamos, where he attended high school. Extracurricular activities in junior and senior high school, such as Science Bowl, the New Mexico Supercomputing Challenge, Robotics Club, and cybersecurity challenges, stoked his interest in science and mathematics and prepared him for his academic career at New Mexico Tech. During his senior year of high school, Pelofske was hired by Los Alamos National Laboratory (LANL) to work on a quantum computing project.
Pelofske has continued his internship at LANL throughout his college career, co-authoring 14 peer-reviewed papers focusing on different aspects of quantum computing technologies. In 2019, he won a distinguished student award for his work on quantum annealing at LANL, and in 2021, he was part of a team that won two research and development awards.
Pelofske was hired his freshman year to work on machine learning and cybersecurity in a research group that is a collaboration between New Mexico Tech's Cybersecurity Center of Excellence and Sandia National Laboratories.
Pelofske, who received a bachelor of science degree in mathematics in May 2022, plans on graduating in May 2023 with a bachelor of science in computer science.
"My goal is to attend graduate school to study primarily quantum computing," he said. "I also plan on continuing to work on new and interesting research problems in my two internships."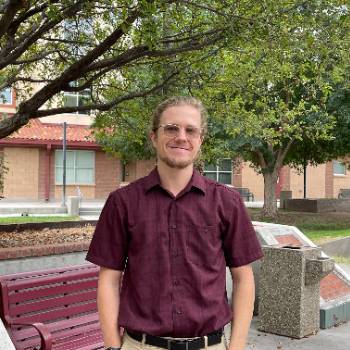 Austin Starnes - A Dallas, Texas, native, Austin Starnes is a senior majoring in environmental engineering who has focused on water quality issues throughout his academic career after working on a mountainside farm in Mora and being exposed to acequias that distribute water through the region. He also traveled to Guatemala, where a lack of wastewater treatment facilities contributed to poor quality drinking water.
On campus, Starnes has shown leadership in a variety of student organizations including Engineers Without Borders, where he served as treasurer and helped raise funds. He helped organize an effort involving 30 students in cleaning up more than 800 lbs of litter from the city in a "Keep Socorro Beautiful" event. Starnes serves as president of the Environmental Engineering Club and has helped organize the annual Practicing Professionals Panel, which recruits environmental engineers to share their professional experiences with students. Starnes is also active in engineering honor society Tau Beta Pi and the student chapter of the American Society of Civil Engineers (ASCE).
In summer 2021, Starnes worked as an intern for the Culvert Asset Management Program, leading him to conduct research within the Civil and Environmental Engineering Department on a culvert asset management system for the New Mexico Department of Transportation. He presented his research at the Student Research Symposium and at the ASCE's International Conference on Transportation and Development in Seattle in May 2022. In summer 2022, Starnes interned at Freese and Nichols, an engineering, planning, and consulting firm in Dallas that focuses on water issues.
"I developed an interest in water quality and sustainability through my experiences in travel, farming, and rainwater harvesting," he said. "I decided to help protect the quality of water in the environment and in our homes as an environmental engineer."
Rodrigo Zapata Jr. - A Roswell native, Rodrigo Zapata Jr. is a senior civil engineering major who transferred to New Mexico Tech from Eastern New Mexico University in Roswell, where he earned an associate's degree in liberal arts.
He's been active in Tau Beta Pi engineering honor society at New Mexico Tech and Phi Theta Kappa at both Eastern New Mexico University and at Tech. He helped raise funds for and visited the elderly at Casa Maria in Roswell.
He's also been active in the American Society of Civil Engineers (ASCE) at Tech and is currently the group's vice president. In addition to helping the ASCE build a concrete canoe for a competition in Houston, Texas, last spring, he's helped organize study groups to work on problem-solving and study for exams.
Zapata has worked as a teaching assistant for a "Programming for Engineers" course, where he conducts a lab helping 24 students find solutions to the problems presented in class. He also serves as a teaching assistant for a statics class and helps grade homework assignments and meets with students during office hours.
Zapata also gained engineering experience during an internship with Wanzek Construction Inc. in summer 2021, working as part of the estimating team on a project for Nevada gold mines and learning the software the company uses for proposal bids and construction management.
Zapata said: "My goals for the future are to become an engineer focused in structures, and improve the design of New Mexico," Zapata said. "I think New Mexico has a lot of potential, and I think I can contribute in exploiting the potential."