NMT Hosts Uzbekistan Ambassador For Campus Tour
July 9, 2021
---
Dignitary's visit may lead to new collaborations in research and academics
SOCORRO, N.M. – New Mexico Tech hosted the Uzbekistan Ambassador Javlon Vakhabov for a daylong campus familiarization tour on Tuesday, July 6.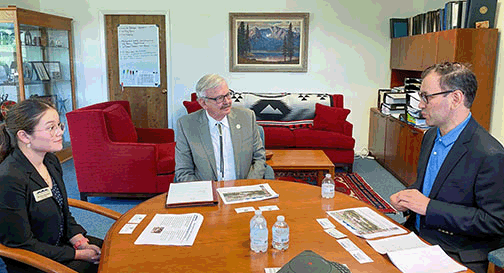 Michael Voegerl, Director of Student Affairs, served as official host for the visit. He said that NMT is interested in pursuing new partnerships with Uzbek universities and agencies. This visit could pave the way for collaborations in academics, research, and student exchanges.
(Pictured at right: Ambassador Vakhabov (left) meets with NMT Regent Veronica Espinoza, and President Stephen Wells.)
"This is a great opportunity for NMT to share our knowledge in the areas of mining and mineral engineering and petroleum engineering and to build lasting relationships to help strengthen education around the world," Voegerl said.
Mr. Vakhabov and his team first met with NMT President Dr. Stephen Wells, then visited the Petroleum Research and Recovery Center.
After lunch, NMT leaders gave a series of presentations in areas that are of mutual interest to the Uzbek group and NMT. The EMRTC Director Mike Stanley, Graduate Dean Dr. Aly El Osery, Hydrology Professor Dr. Bruce Harrison, PRRC Director Dr. Robert Balch, Mining and Mineral Engineering Professor Navid Mojtabai.
Ambassador Vakhabov spoke about his countries plan to focus on improvements to the mining industry, updating the agricultural industry and concentrating on innovative technologies in education, chemical engineering and health care.
Uzbekistan is a central Asian nation with population of about 35 million. The country has vast natural resources, some that are contributing to its economy and others that are untapped. Uzbekistan is home to many gold, copper, and uranium mines. The national gas company is the 11th largest in the world; and the nation has vast reserves of oil and gas.
Since gaining independence in 1991, Uzbekistan has been working to grow its educational system, expand higher education, and form partnerships with international universities.
– NMT –