Top Student Awards Announced at 2021 Graduation Ceremonies
May 8, 2021
---
Casper Huang Wins Brown Award; Tiffany Nelson and Cameron Zielinksi win Cramer Awards; Talysa Ogas Viera wins both Langmuir and Founders Award
SOCORRO, N.M. – New Mexico Tech broke new ground Saturday, May 8, with a commencement ceremony that was off campus for the first time in school history. The top five student awards were given to four students from the Class of 2021 at two ceremonies at the City of Socorro Sports Complex.
Casper Huang – Brown Award
The 2021 Brown Award winner is Casper Huang, a graduating senior in mechanical engineering.
The Brown Award is named in honor of Mr. C. T. Brown, who was for many years a member of the Tech Board of Regents. It is presented to the member of the graduating class who, in the opinion of the Faculty, ranks highest in scholarship, conduct, and leadership. The award consists of a plaque and a prize of $1,000 dollars.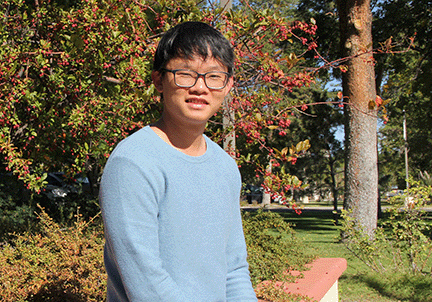 Casper (pictured at right) is a native of Socorro and a graduate of Socorro High School. He sports a GPA of 3.99 and was named a Macey Scholar for his senior year. He took his first class – Intro to Engineering – at NMT when he was 13 years old, so he's been a part of the campus community for 9 years. In that first class, he designed and 3D printed a catapult that won the class competition against much older students.
While in high school, he started working in Dr. Snezna Rogelj's lab in the Biology Department. Casper has tutored at local elementary schools, and for the NMT Office of Student Learning. He currently serves as an officer in the Engineering Honor Society.
For the past three years, he's worked in the Physics Department machine shop for the Research Division. That experience resulted in him serving as technical advisor for the Soapbox Derby Challenge for local middle schoolers. He wrote a paper about that initiative, which he presented at the American Society for Engineering Education conference in 2020.
As a member of the New Mexico Tech sounding rocket team, he was instrumental in the team's design and fabrication work this year. Casper has been a leader of design teams and his machining experience and advice has been an invaluable resource to multiple faculty and student projects.
For more than two years, Huang worked as a dental assistant at the Socorro office of Dr. Duane Beers, D.D.S. That experience inspired him to pursue dentistry, which he will be doing at the Oregon Health and Science University.
Tiffany Nelson, Cramer Award
The Cramer Awards were established to honor Tom Cramer, an engineer and a member of the Tech Board of Regents for 26 years. They are awarded to two graduates in engineering who rank highest in scholarship. Each winner receives a certificate and a $400 cash award.
The first Cramer Award recipient is Tiffany Nelson, graduating senior in the electrical engineering.
Tiffany finished with a stellar 3.96 GPA and has completed multiple internships. In the last semester of her junior year, she was the team lead for NMT Fusion competing in NASA MITTIC 2020. That team was chosen as one of the top ten teams to present at Johnson Space Center for their research on the NASA patented Variable Power Handheld Laser Torch.
She was noted for her exceptional academic record and her leadership activities throughout her undergraduate career. Tiffany has accepted a job with Analog Devices in Albuquerque.
Cameron Zielinski, Cramer Award
Cameron finished with a perfect 4.0 GPA and a remarkable record of research, community service, and leadership. In the nomination process, one professor said that Cameron's homework assignments were better than the answer keys. He was noted as studious, polite, and respectful, in addition to being at the top of every class.
Cameron got lab experience with Professor Rodolfo Tello-Aberto doing organic synthesis of lactone-based chemotherapeutics, as well as taking part in the STARS program as Sandia National Lab.
Cameron has been accepted to a master's program here at NMT to continue his research in the Chemistry Department. Ultimately, he hopes to attend medical school.
Talysa Ogas Viera – Langmuir and Founders Award
Every year New Mexico Tech presents two awards for graduate students – the Langmuir Award and the Founder's Award.
The Langmuir Award honors an outstanding scientific research paper by a student or recent graduate of New Mexico Tech. This award consists of a plaque and a $400 cash award.
The Founder's Award honors the people responsible for founding the New Mexico School of Mines in Socorro in 1889. It is given to the person graduating today with an advanced degree who is judged to have made an outstanding contribution to the Institute through scholarship, research, and involvement in campus affairs. The award consists of a plaque and an $800 cash award.
For the first time in the history of the institution, we are awarding both awards to the same person. I am pleased to announce that the winner of both the Langmuir Award and the Founders Award is Talysa Ogas Viera. Talysa, can you join me on stage please?
Talysa is earning her doctorate in biomedical technology today. Her nomination for the Langmuir Award was supported by a host of faculty members in the chemistry department. Her nomination for the Founders Award was supported by faculty members from across campus.
She won the Langmuir Award for her paper titled, "DNA damage induced by KP372-1 hyper-activates PARP1 and enhances lethality of pancreatic cancer cells with PARP inhibition." This paper was published in the journal Scientific Reports from the Nature Publishing Group, along with her advisor Dr. Praveen Pratidar, who noted that this was not even part of her dissertation work.
This paper identifies a potent tumor-selective chemotherapeutic approach for pancreatic cancer treatment. This project has resulted in an application for a patent. Dr. Pratidar said Talysa earned this award based on the quality and quantity of her work.
Talysa is a native of Los Lunas, New Mexico. She earned her bachelor's and master's degrees here at New Mexico Tech. She returned after several years away, including two years teaching secondary school.
Talysa's nomination for the Founders Award highlighted her leadership and volunteer work. She did yeoman's work in the Writing Center to help her fellow graduate students polish their papers and improve their writing skills. She volunteered in the Center for Graduate Studies, and won numerous awards in the Chemistry Department.
The Langmuir Award had two other worthy nominees, but for the Founders Award, Talysa won by acclamation.
– NMT –