NMT Student Featured on National Talk Show To Discuss Hot-Air Ballooning
May 21, 2021
---
Savannah Bradley is a seasoned pilot working toward a degree in mechanical engineering and aviation
SOCORRO, N.M. – New Mexico Tech student Savannah Bradley was recently featured on the syndicated TV show "The Tamron Hall Show," to talk about ballooning in the state and the Albuquerque Balloon Fiesta.
Click here to watch the full interview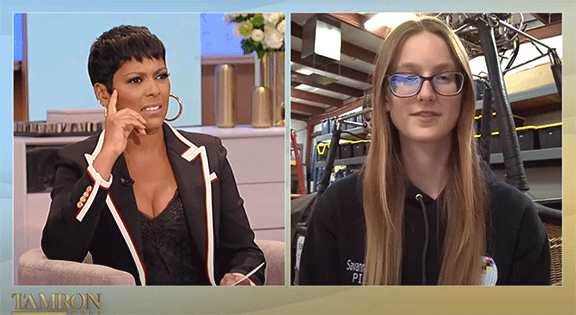 Bradley is a rising senior in the mechanical engineering department and an experienced balloon pilot. She flew her first solo flight on her 14th birthday and got her pilot's certificate on her 16th birthday. For the past five years, she's flown countless commercial flights with her father and competed in the ballooning events with the Top Gun Ballooning Club in Albuquerque.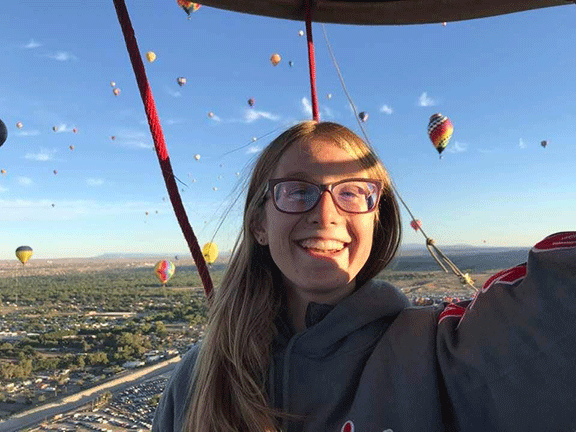 Hall's producers called Bradley in early May. They wanted Bradley to do the interview from inside a balloon, but she convinced them that the Rainbow Ryders balloon shop in Albuquerque would be equally appropriate.
"It was really exciting to do the interview," Bradley said. "The frustrating part of it was doing it in the middle of finals. Plus, the day before the interview, I got the second COVID shot, so I was sick as a dog."
Hall asked her about her history of ballooning, her family's history, the Albuquerque Balloon Fiesta, and its impact on the local economy.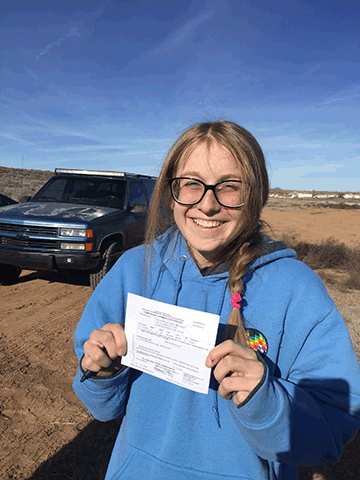 "Ballooning is what I've been doing my whole life," Bradley told Hall. "Most of my friends are balloonists, whether they are from the U.S. or elsewhere in Europe. Albuquerque is the mecca for ballooning."
Bradley – and her younger brother Bobby – are fourth-generation balloonists. Their great-grandfather Jim Dutrow was a pioneering balloon pilot in Colorado. He taught Savannah's father, Troy Bradley, how to fly balloons.
"My dad moved here when he was 18 to fly for Sid Cutter (the founder of the Albuquerque Balloon Fiesta)," Savannah said. "My parents met because my dad taught my mom's dad how to fly."
The Bradley family operated their own company, Skyspan Adventures/World Balloon, for many years, until selling the company. Troy Bradley is now the head pilot for Rainbow Ryders, which is the official ride operator for the Balloon Fiesta.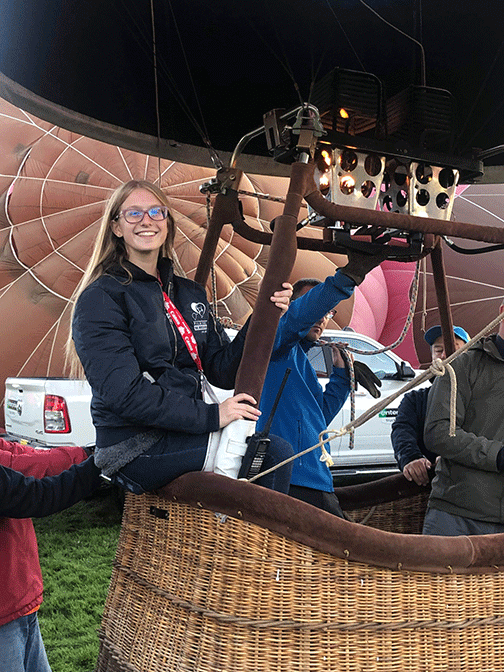 Savannah aims to graduate in May 2022 with a bachelor's in mechanical engineering with a minor in aerospace engineering. She is doing an internship with Sandia National Labs and LS Technologies, a private company that does contract work with the FAA. She hopes to continue her internships and do a direct Ph.D. with a focus on human factors in aircraft accidents.
"Ballooning will always be in my life," Bradley said. "I haven't been able to get away from it – not that that's a bad thing. I want it to be a part of my life forever. It'll be a weekend hobby."
The Bradley family's website said that Savannah gets great enjoyment from the travel to different events. She has participated in many flights across the United States and in Japan, Turkey, Belgium, Mexico, and the Czech Republic.
"My knowledge as a pilot has helped me in my career in doing engineering focused on aviation," she said. "A contractor for the FAA – LS Technologies – reached out to me during Balloon Fiesta, so my pilot expertise has already given me opportunities."
– NMT –