New Mexico Tech Joins New U.S. Department of Energy STEM Consortium
July 2, 2021
---
Three-year grant will support three faculty research projects and four graduate students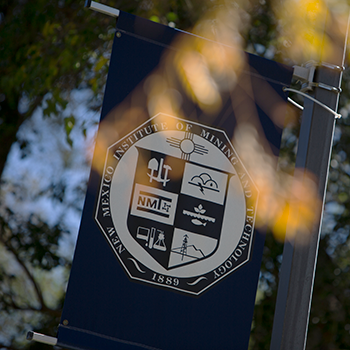 SOCORRO, N.M. – New Mexico Tech has joined a new partnership to support the U.S. Department of Energy initiative to grow the workforce in science and engineering.
Three professors at NMT will receive funding to bring in grad students and employ undergrads on research projects: Dr. Michael Hargather in Mechanical Engineering, Dr. Chelsey Hargather in Materials Engineering, and Dr. Michaelann Tartis in Chemical Engineering.
The project is titled "Growing STEMs Consortium: Training the Next Generation of Engineers for the DOE/National Nuclear Security Administration (NNSA) Workforce," and is being spearheaded by Dr. Michelle Pantoya of Texas Tech University.
The grant is for a total of $3 million, with $900,000 coming to New Mexico Tech. Michael Hargather said the three-year grant will support four grad students, funding their master's and/or PhD thesis projects. The NMT funding will also support three undergraduate students to support the grad students and their projects.
"The program is intended to support workforce development for the Department of Energy," he said. "We will be pushing out information to the campus community for internship opportunities and general engagement with the national labs."
Chelsey Hargather will oversee a graduate student working in the area of 3-D printed energetic materials. Tartis will support a grad student in the area of protection from blast effects, specifically the area of preventing traumatic brain injury. Michael Hargather's project will be in the area of shock wave interactions.
The program began on June 1 with its first group of students. Sixteen Texas Tech students are spread across several national laboratories: 10 at Consolidated Nuclear Security, four at Sandia National Laboratory and two at Los Alamos National Laboratory.
Pantoya, who specializes in energetic materials and runs the Combustion Lab, said the solicitation from the DOE resonated with her because it focuses more on how students become successful in STEM careers rather than the "next big discovery."
"I started to think about the educational steps we take to groom students to be successful workers in the future," she said. "That's why this particular solicitation from the DOE really struck me. It gave me a chance not just to talk about the technical aspects of the scientific work, but to talk about how to prepare people to be successful in their future technical careers."
The program will also be supported by STEM education specialists at Amarillo College and the University of Houston.
Michael Hargather says that this is an exciting opportunity to work with the National Laboratories, but also to work with Texas Tech.
"We will be hosting some Texas Tech and NMT students here at NMT and EMRTC for summer research experiences in future summers which will enhance research cross-training and student exposure to research impacting the DOE mission," he said
Pantoya said this consortium is vital to higher education and STEM fields in general.
"No. 1, there is a lack of well-trained and prepared STEM employees who can work for the DOE and the federal government," she said. "There are people retiring who have been in the business for 40 years who are beyond experts in the field of energetic materials, and they're leaving. Without that knowledge base, our country would be at a big disadvantage in the way we develop our nation's security in the future."
There's a big need to train STEM people, Pantoya said. There also is a lack of skillsets that are focused on energetic materials understandings and on engineering in general. The consortium is filling this gap of people power that will help the DOE and the U.S. progress in the future.
"Another gap is the need to create a diverse workplace because different cultures within the U.S. bring forward, naturally, different perspectives on how to solve problems, and engineers, by their very nature, are problem solvers," Pantoya said. "Having a diverse workforce enables us to look at problems from diverse perspectives. That usually lends toward hugely successful problem-solving. People from the same backgrounds have similar ideas, such that we might be able to address a problem, but we might not do it with as much creativity as a diverse group would. We need to fill that gap in diversity as far as STEM employment goes, too. This program fills both of those needs."
– NMT –