NMT Class of 2021 by the Numbers
May 10, 2021
---
SOCORRO, N.M. – More than 220 members of the Class of 2021 and 2020 participated in the event. The Class of 2021 includes 446 graduates – 330 bachelor's recipients, 105 master's recipients and 11 Ph.D.'s.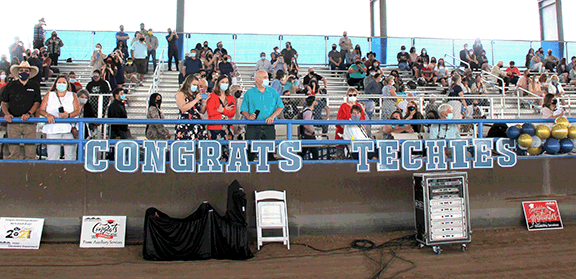 Hundreds of family and friends filled the venue – in socially distanced pods – for an event that culminated with the appearance of students dressed like Storm Troopers shooting confetti over the graduates.
Data points about the Class of 2021:
The average GPA of this year's bachelor's recipients is 3.28.
Just over 70 percent of you have GPAs of 3.0 or greater.
70 students in this graduating class (or 32%) have received at least one F in a course at NMT, BUT you were unstoppable!
Three of you are graduating with a perfect 4.0 GPA.
The youngest bachelor's recipients are 18 and 20 years old.
Once we are done here today, New Mexico Tech will have awarded 6,321 bachelor's degrees in the history of the Institute.
The most well represented department this year is Mechanical Engineering, with 48 Bachelor's degrees being awarded today.
The most well represented department at the Master's Degree level is the Science Teaching/Education Department, with 11 Master's degrees being awarded today, just beating out long-time record holder Mechanical Engineering, with 10 degrees being awarded today.
While the most well represented department at the Ph.D. level, with 4 degrees, is the Earth & Environmental Science Department.
The Class of 2021 is a diverse group. Just over 88% percent of the undergraduates hail from New Mexico, including students from Farmington to Carlsbad, from Shiprock to Silver City, from Zuni Pueblo to Portales – and all points in between.
From out-of-state, the Class of 2021 includes students from Arizona, California, Colorado, Maryland, New York, Ohio, Pennsylvania and Texas.
This year, our international students earning degrees hail from Bangladesh, China, Ghana, Indonesia, Iran, Kenya, Libya, Nigeria, South Africa, Spain, and Vietnam.
Additionally: There are 10 alumni of Socorro High School. Congratulations to our home-town students.
– NMT –