Introducing Veronica Espinoza - Macey Scholar
---
Chemical Engineering standout selected for top scholastic award for her academics and extracurriculars
SOCORRO, N.M. – Veronica Espinoza is making the most of her time at New Mexico Tech. She was selected as one of the Macey Scholars for the 2019-2020 school year and was selected by the Governor to serve on the NMT Board of Regents.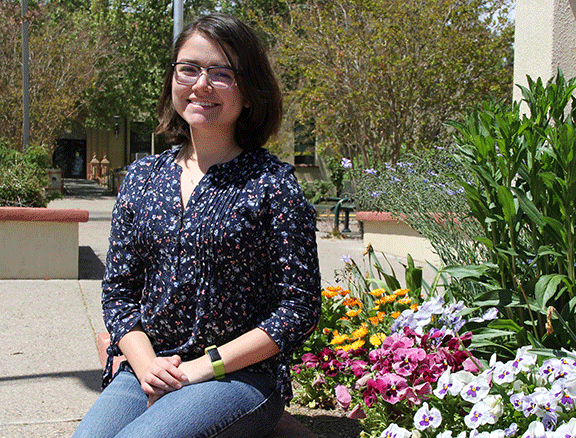 A native of Santa Teresa, N.M., Espinoza sports a stellar GPA, an impressive list of research activities, and solid community service activities. She is a chemical engineering major who transferred from Colorado School of Mines in 2017
After finishing her bachelor's, Espinoza intends to stay at NMT to pursue a master's in mechanical engineering with an emphasis on explosives.
"I feel like NMT faculty, staff, administration, has given me so many opportunities," she said. "A couple times went to Mexico, so that helped me with the professionalism and communication."
She has worked with Dr. Michael Hargather on a research project to investigate fireball surfaces and expansion. She will start that project this summer and continue through her senior year.
She has worked in areas outside of engineering as well. Espinoza was hired by the NMT Office of Latin American Initiatives. She has traveled to universities in the Mexican cities of Puebla and Guanajuato to build relationships in academia and research. During the summer of 2018, she organized a week-long seminar at NMT for professors and graduate students from the National Institute of Astrophysics, Optics and Electronics at the University of Puebla.
She currently is doing research at the Institute for Complex Additive Systems Analysis, or ICASA, which is NMT's cybersecurity research division.
"Working with ICASA is a whole different experience on a whole different field from mechanical engineering," she said. "But as an engineer, we are taught how to solve problems, not just things that are specific to our fields. It's amazing to learn about cyber security."
Espinoza has been involved in a variety of extracurricular activities. She was a part of the winning design team in the Creaton Auditoria Puebla design competition in 2017. She and her teammates designed a mobile app over the two day event. She is an active member of the student chapter of AIChE and Tau Beta Pi. Her outreach efforts include tutoring at the Boys and Girls Ranch, Science Olympiad judging.
– NMT –