New Mexico Tech Offering On-Campus and Online Instruction Options for Fall 2020
May 19,2020
---
Administration's plans for upcoming semesters prioritize safety for NMT students, faculty, and staff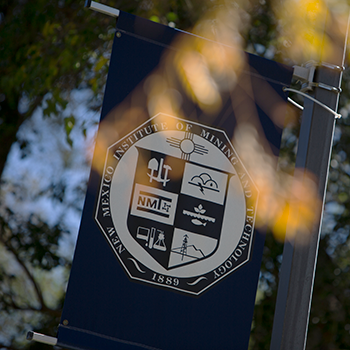 SOCORRO, N.M. -- New Mexico Tech released preliminary details today of the university's plans for Fall 2020 semester course instruction. Instruction will take place on campus, with a hybrid distance education option available to students as well.
NMT will comply with all executive orders from New Mexico Gov. Michelle Lujan Grisham and follow mandated protocols from the N.M. Health Department and CDC guidelines regarding strict social distancing protocols in classrooms, dormitories, offices, and common areas on campus.
All of New Mexico Tech's decisions will prioritize the safety and wellbeing of students, faculty, and staff, and will respect anyone's decision on the mode to educate or learn. To best accommodate students during the COVID-19 pandemic, Tech will offer many more classes online than in a typical semester. The additional offerings allow for greater social distancing in classrooms, and they provide students who do not wish to attend class in-person the option of taking their classes entirely online. Large classes, in particular, will be taught mainly online to avoid large numbers of students in close proximity.
New Mexico Tech continually monitors the risk of on-campus COVID-19 and will rapidly switch to 100 percent online instruction for the fall semester should safety dictate such a move. Given the changing nature of the COVID-19 pandemic, the university will provide regular updates regarding the Fall 2020 semester instruction plan over the summer to students and parents.
The COVID-19 pandemic presents special challenges to New Mexico Tech and all of higher education as we plan for fall semester operations. Most Tech students have voiced a strong preference for on-campus instruction, but that must be balanced with the overall safety of students, faculty and staff as well as the requirements for social distancing and similar measures to keep students, staff, and faculty as safe as possible.
– NMT –