New Mexico Tech Graduation Moved to Saturday, May 16
April 24, 2020
---
Class of 2020 ceremony will be completely online
SOCORRO, N.M. -- New Mexico Tech has decided to move the 2020 Commencement ceremony to Saturday, May 16, in order to accommodate the challenges of finishing the semester entirely online and conducting the ceremony online.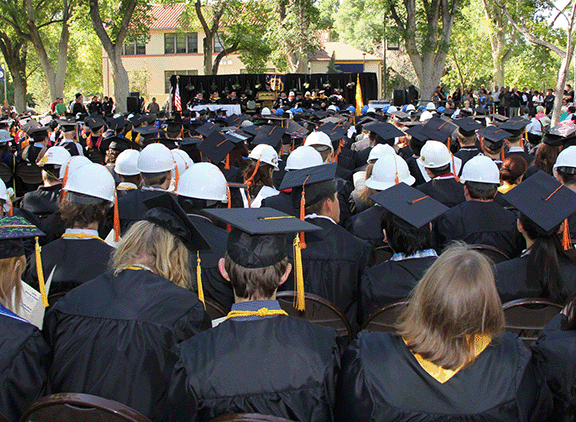 NMT President Dr. Stephen Wells made the announcement today in an email to all students, faculty, and staff. The decision was made after consulting with faculty, staff, and students.
Wells wrote, "You are all invited to attend virtually as we celebrate the hard work and achievements of our graduates. Be sure to join the ceremony at 8:45 a.m. to see a special presentation for our graduates before the ceremony begins.'
This year's keynote speaker is Dr. France Cordova, a world-renowned scientist and former Director of the National Science Foundation. A resident of Santa Fe, Dr. Cordova is a longtime higher education administrator and is extensively published in astrophysics.
As in years past, New Mexico Tech will award the top student scholastic achievements for the Class of 2020 during the ceremony. The top undergraduate awards are the Brown Award, to the top overall student, and the two Cramer Awards, given to the top engineering students. The annual graduate student awards will also be heralded during the ceremony – the Langmuir Award for student or recent graduate with the most influential publication, and the Founders Award to the grad student who exemplifies academic achievement, citizenship, and service to the university.
Also in his email, Dr. Wells wrote, "Despite the significant challenges that we have faced with the pandemic, we have moved forward in the Techie spirit. So here we are with the end of the semester and academic year nearly upon us. Congratulations on all of the hard work, diligence, and ingenuity you have put forth this semester. I would add a heartfelt thank you for your resilience and determination in response to the changing educational landscape due to the COVID-19 pandemic. Everyone in our community met the challenges with which they were faced, and we came together to complete another extraordinary academic year, proving, yet again, New Mexico Tech is one of the finest universities in the nation."
Click here for the Commencement 2020 page.
-- NMT --