Research Symposium Features Over 125 Projects
January 28, 2019
---
Students will compete for prizes for posters, talks, and 3-minute presentations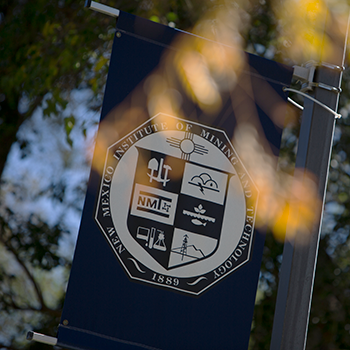 SOCORRO, N.M. – Registration is now open for the 8th annual Student Research Symposium (SRS) at New Mexico Tech. The event features a wide range of innovative projects, including over 90 posters presentations, six oral presentations and 30 three-minute speech competitors.
The SRS event will begin Wednesday, April 10, and continue through Thursday, April 11. All students are encouraged to attend and learn about the interesting research being conducting all over campus. The SRS is presented through the work of the Office for Student Learning (OSL).
Students can click here for registration details to present at the SRS.
OSL Director Dr. David Cox said, "This is one of our hallmark events where we follow the theme, 'Educate to Communicate.' New Mexico Tech is a place where research scholarship is central to the process of molding science and engineering professionals. We learn by doing, and are especially focused on presenting and communicating research in a manner that is both clear and accessible."
The event schedule (all events are on the New Mexico Tech campus in Socorro):
Wednesday, April 10, 2019
Poster Session 1 | 11:00 AM in Macey Center
Poster Session 2 | 1:00 PM in Macey Center
Oral Presentations & Dinner | 5:00 PM for 6 Presenters in Fidel Ballroom
Thursday, April 11, 2019
3 Minute Speech Competition | CITL (Speare 113), 9:30 - 11:30 am
Poster Session 3 | 1:00 PM in Macey Center
Poster Session 4 | 3:00 PM in Macey Center
The Symposium originally was proposed as a part of Tech's re-accreditation process and has already achieved much more than the earliest visions and expectations. Students present their research and design projects for a multi-disciplinary audience. New Mexico Tech also invites students from neighboring universities to present their poster formatted research, providing a venue that helps promote science and technology within the State of New Mexico.
"The SRS provides students with an opportunity to share their research with their peers and mentors," OSL Assistant Director Elizabeth Lyons said. "It showcases the work of our university and with reliance on our students to actually convey that information. It empowers them to talk about their work and to an audience that can and will talk back."
Faculty, staff, alumni and graduate students will review each project, providing feedback on presentation skills and quality of work. Anyone interested in volunteering as a reviewer should email srs@nmt.edu.
All who attend the event will be asked to provide anonymous feedback via iClickers for oral presentations and online surveys for poster presentations, regarding whether each presentation – both oral and poster – is understandable and increased the audience's knowledge. Again, that feedback will only be available to the presenters.
"The goal of the SRS is to provide students with a platform to present and discuss their research with an audience that is not necessarily in their field. Communicate to Educate has long been the mission of the SRS" Lyons said. "New Mexico Tech fosters excellence in scholarship and the SRS is just one way in which we can showcase it."
"The beauty and creativity of New Mexico Tech students is found in their solid research training. To then communicate well with a variety of learners, scholars, and business leaders provides a strong cadre of professionals who extend the learning received in this place," Cox said. "We are thrilled to provide such a forum of excellence."
Everyone on campus – and community members – are invited to attend.
– NMT –