Software Company Donates $2.1 Million Modeling Suite to NMT
January 14, 2019
---
Modeling suite will benefit graduate students and faculty in geology and petroleum engineering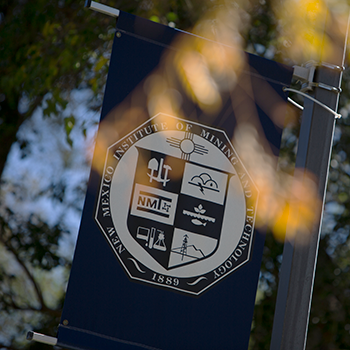 SOCORRO, N.M. – The Earth and Environmental Science Department at New Mexico Tech is the recipient of a generous donation of imaging software suites.
Petroleum Experts Limited, or PetEx, recently donated 10 copies of 11 different software packages that relate to 2D and 3D modeling of the Earth's subsurface. The commercial value of the donation is $2.18 million. PetEx is headquartered in Scotland. The company's Houston office, Petroleum Experts Inc., facilitated the donation. PetEx specializes in petroleum engineering software products for the oil industry. They offer educational licenses to a limited number of accredited universities that offer graduate programs in geology and petroleum engineering.
Geology professor Dr. Gary Axen said the PetEx software packages will provide valuable learning tools to NMT students interested in modeling and structural analysis.
"Thanks to this generous donation from PetEx, our students will have greater opportunities to use this leading edge technology to better understand the subsurface and gain experience in modeling," Axen said.
"The Move software suite was developed mainly for petroleum exploration, but has many other potential applications in Earth science and petroleum engineering," Axen said. "Move allows one to 'build' 2D and 3D models of subsurface geology based upon a variety of input data types, and to reconstruct such models to times earlier in their geological evolution, in a geometrically rigorous fashion. It also has modules that allow one to understand the slip tendency of faults in a given stress field, and other useful computer tools."
Brandon Lutz, Ph.D. student in geology, plans on putting this software to use immediately for his dissertation work. Lutz and Axen are using the Move software for an NSF-funded project to make a 3D model of a large region between Las Vegas, Nev., and the southern Sierra Nevada in California, including the classic Death Valley area.
Axen said, "This will be reconstructed in 1 to 2 million year time steps back to about 12 million years ago, when large magnitude tectonic extension of the region began. These geometric snapshots will then be used to constrain forward models of surface erosion and sediment deposition and of surface and groundwater flow under changing climate scenarios.
"In turn, this will foster understanding of the effects that tectonics has on those processes," Axen said. "Ultimately, the forward models will be "tested" against a large database of spring activity, spring water chemistry and endemic spring species distributions (and their genetic clocks), with the goal of predicting spring resilience in arid climates undergoing climate change."
Faculty members and students will have access to 10 copies each of these software packages:
MOVE
2D Kinematic Modelling
3D Kinematic Modelling
Geomechanical Modelling
Fracture Modelling
Fault Response Modelling
Fault Analysis
Stress Analysis
MOVE Link for Petrel
MOVE Link for OpenWorks
MOVE Link for GST
The MOVE suite is marketed as the most complete structural modelling and analysis toolkit available. It provides a full digital environment for best practice structural modelling to reduce risk and uncertainty in geological models.
– NMT –