NMT Presents Top Faculty Awards at 2019 Graduation
May 14, 2019
---
Top faculty awards go to Dr. Anwar Hossain, Dr. Nikolai Kalugin, and Dr. Sharon Sessions
SOCORRO, N.M. – New Mexico Tech announced the top faculty awards for the 2018-2019 school year at the Commencement ceremony on Saturday, May 11, on campus.
More than 280 members of the Class of 2019 participated in the event. The Class of 2019 includes 445 graduates –300 bachelor's recipients, 130 master's recipients and 15 Ph.D.'s. Hundreds of family and friends filled the venue for an event that culminated with the appearance of students dressed like Storm Troopers shooting confetti over the graduates.
Dr. Nikolai Kalugin of the Materials Engineering Department won the 2019 Distinguished Researcher Award. Dr. Anwar Hossain of the Math Department won the 2019 Distinguished Teaching Award. Dr. Sharon Sessions of the Physics Department is the winner of the 2019 Distinguished Service Award, a newly created honor.
Sharon Sessions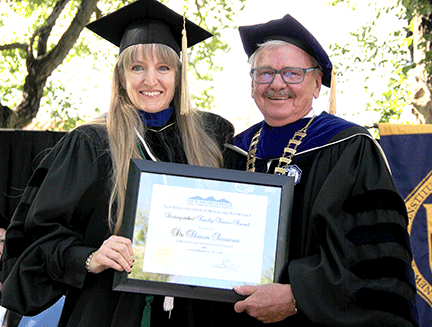 Dr. Sharon Sessions is the winner of the inaugural Distinguished Service Award at New Mexico Tech. She earned her bachelor's at NMT in math and physics, then went to the University of Oregon for her master's and Ph.D. in physics.
(Pictured at right are Dr. Sharon Sessions and university President Dr. Stephen Wells.)
Dr. Sessions returned to NMT in 2003 after finishing a post-doc at the Max Planck Institute. She was nominated for this award by several people for her work in education outreach by spearheading the STORM Force committee.
Dr. Sessions has taken a pro-active approach to improving the quality of education and the opportunities for local school children. The programs that she has spearheaded have brought the New Mexico Tech and Socorro communities together, as well as gotten NMT students involved with the local school system. Her efforts are improving the quality of life for both our campus and community.
Sharon has built programs from scratch to address the underlying issues with learning in our schools. One such example is the MATCH Program, which stands for Mentoring and Tutoring Create Hope. This program pairs NMT students with local at-risk third-graders. Sharon's largest and most ambitious effort is the STORM FORCE, which stands for STEM Outreach and Mentoring: Fueling Opportunity through Relationships, Community, and Education. This relatively young committee is already achieving its goals of creating opportunities for students, encouraging lifelong learning, and empowering local residents.
Anwar Hossain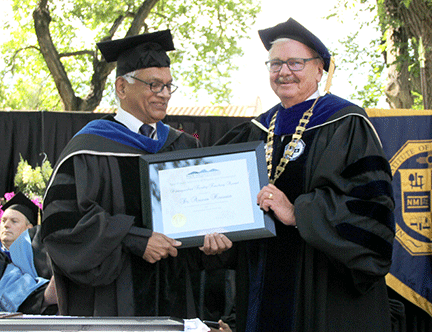 Dr. Anwar Hossain is the 2019 winner of the Distinguished Teaching Award. Dr. Hossain has been on the faculty at NMT since 1993. He earned his bachelor's and master's in Bangladesh and his doctorate at Old Dominion University in Virginia.
(Pictured at right are Dr. Anwar Hossain and President Wells).
He earned tenure in 2006 and is currently the chair of the Department of Mathematics. He has an impressive list of publications. He has advised more than a dozen graduate students. And he's served as a referee for four journals.
This award, however, is for his skills as a teacher in the classroom. More than 10 students supported Dr. Hossain's nomination with glowing praise and admiration for his talent and demeanor as an instructor.
One student wrote, "Dr. Hossain goes above and beyond in his leadership of the mathematics department. Not only is he exceptionally competent in his area of expertise, but he has the skills to effectively communicate and teach it. … Dr. Hossain's teaching is a rarity."
Another student wrote, "He is an amazing professor. On top of that, has been extremely supportive of me and my education. He pushed me to apply to the masters program and has supported me through the application process."
Nikolai Kalugin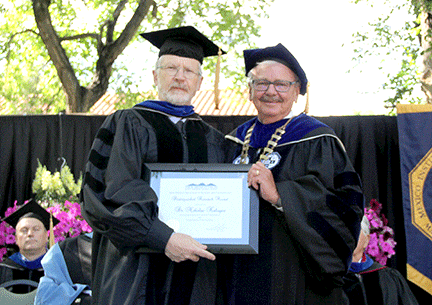 Dr. Nikolai Kalugin came to New Mexico Tech in 2006. He earned his degrees in optics and physics in Russia. He then spent time as a researcher in Switzerland and a professor at Texas A&M.
(Pictured at right are Dr. Nikolai Kalugin and President Wells.)
Dr. Kalugin has earned an international reputation for his work in nanostructures, and graphene. His use of microwave spectroscopy has led to discoveries with the alternative current impedance for graphene.
Dr. Kalugin has published more than 63 papers, the majority of which have been published since he came to New Mexico Tech. His global work resulted in being selected as a Fulbright Global Scholarship in 2018, allowing him to continue his work on graphene with collaborators in Chile and at the University of Cambridge in England. During his recent sabbatical, Dr. Kalugin contributed to the observation of Tomonaga-Luttinger electron liquid in graphite in high magnetic fields, at an absolute world record–cryo-micro-Raman measurements in magnetic fields up to 45 Tesla.
He maintains a diverse and productive collaborative network with researchers at such prestibious institutions as Georgetown University, Los Alamos National Laboratory, UC-Riverside, Cambridge University, University of Manchester, Universität Ruhr-Bochum in Germany, The Center for Atmoic Studies in Grenoble, France, the University of Cordoba in Argentina, the University of Chile in Santiago and many more.
-- NMT --