NMT Students Ranked Among Nation's Smartest
November 28, 2018
---
Inc. Magazine issues ranking of public universities with smartest students
SOCORRO, N.M. – New Mexico Tech was named to The 20 Public Colleges With the Smartest Students in an Inc. Magazine article released on November 1. Tech's students are ranked 18th among all public colleges nationally: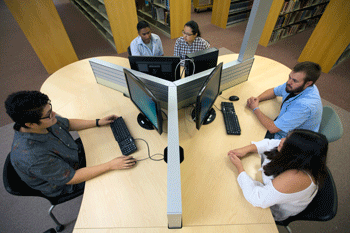 Click here to go to Inc. magazine.
What makes this particularly compelling is that our undergraduate, degree-seeking student body consists of 88.4% New Mexico students. Even our graduate student population is made up of two-thirds New Mexico students (67.7%).
The influx of New Mexico students continued this fall. In our Fall 2018 freshman class, which is 25% larger than the 2017 class (302 in '18 vs. 240 in '17), 87.1% are from New Mexico. Included in this fall's freshmen class are 141 new students from the Albuquerque metro area, Rio Rancho, Santa Fe and Los Alamos, accounting for nearly 50% of the class (46.6%).
Of the 230 Fall '18 freshmen who reported, 40% ranked (90) in the top 10% of their high-school graduating class, and 68.7% (158) ranked in the top 25%. The average high school GPA for the Fall '18 class is 3.78.
– NMT –