NMT Music Program Sets Holiday Recital For Dec. 9
Thursday, December 6, 2018
---
Concerto features original compositions by students, rock 'n' roll, classical, and much more
SOCORRO, N.M. – The New Mexico Tech Music Program will present a special holiday recital at 2 p.m. Sunday, Dec. 9, at the Jean Macey Recital Hall.
Under the direction of conductor Gaby Benalil, the event will include feature soloists, the chamber orchestra, jazz ensemble, student composers, and piano ensemble.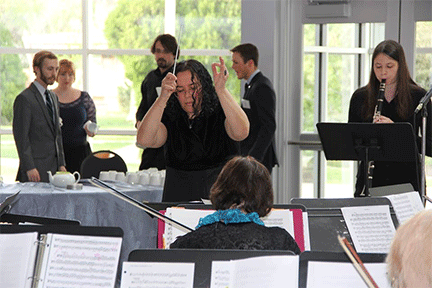 The featured music includes interpretations of rock 'n' roll, Classical standards, and original compositions.
(Pictured at right: Gaby Benalil conducting the NMT chamber orchestra at a recent performance).
The show will also feature NMT music patrons Elise Brower (piano) and Candace Brower (cello)
Student composers whose music will be performed are James Nolan, Skyler Fenneel, and Daniel Perez.
The prelude features the Jazz & Music Outreach Chamber Orchestra and Piano Ensemble. They will perform Elvis Presley's "Blue Suede Shoes," "Sweet Home Alabama" by Lynyrd Skynyrd, and "Bennie and the Jets" by Elton John.
The Brower mother-dauther duo will perform Rachmaninoff's Vocalise, and Luigi Boccherini's Cello Concerto Bb Major no.9.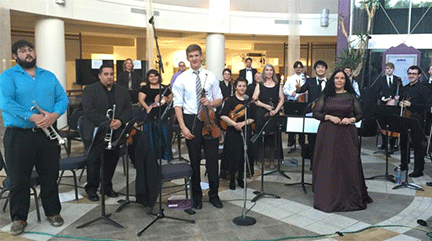 The NMT Chamber Orchestra will perform Johann Sebastian Bach's Concertos Brandenburg no.3 in G Major Allegro, Vivaldi's L'Estro Armonico op.3 no.6 Allegro.
(Pictured at right: The NMT Chamber orchestra at a recent performance in the Fidel Center.)
The violin ensemble will perform Remo Giazotto's Adagio in A Minor (G Minor Original), featuring Malia Kao on viola and Mariam Mojtabai on Cello.
The Chamber Orchestera will play Vivaldi's L'Estro Armonico op.3, featuring Elizabeth Bustamante and Malia Kao on violin
Skyler Fennell's original composition for piano and strings will also be performed.
The show will close with the prelude section of Richard Wagner's Die Meistersinger von Nurnberg.
-- NMT --