NMT Ranked No. 2 Nationwide For Online Master of Science for Teachers Program
December 4, 2018
---
Grad School Hub website ranks top online master's programs in science education
Tuesday, December 4, 2018
SOCORRO, N.M. – The Grad School Hub website recently ranked New Mexico Tech as No. 2 in the nation for online master's degree in science education.
The website praises NMT for offering an affordable degree track that is "perfect for educators."
Program Director Dr. Megha Khandelwal said the latest ranking is evidence that NMT has put together a quality program for STEM educators.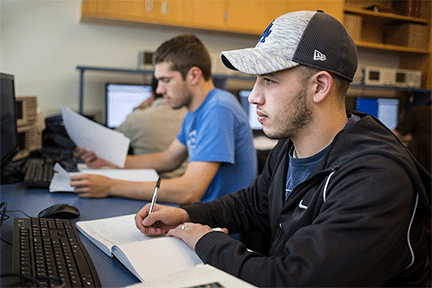 "We are a STEM university and our engineering, science, and math programs are well-ranked throughout the country," she said. "And we use the same professors to teach our MST classes. So that's something that sets us apart."
Click here to see the full listing.
MST students at Tech undertake an independent study, which comprises a research project completed in their classroom.
"When our MST students do research, they come up with some ideas to improve the quality of STEM instructions and do research with their own students to see which new methods are better," Dr. Khandelwal said. "The next generation science standards were recently included as part of NM K-12 curriculum and teachers are transitioning from traditional lectures to latest educational tools and technology."
Each student in the MST program works with a committee of three Tech faculty and staff members to develop a research project. The projects approach real-life classroom learning issues in a hands-on data-driven approach.
College Hub says that NMT offers both hybrid and 100 percent online formats, with a focus on teaching educators the content they need in order to provide a valuable classroom experience for their students.
The website continues: "This program is only available for professionals who hold a teaching license and have at least one year of experience in the classroom. Students can expect to complete 30 credit hours of coursework, and either a thesis or an independent study research project."
The MST program will be expanding the curriculum over the next year. NMT recently received a $3.2 million grant from the U.S. Department of Education, which will fund four new positions and create more than 50 new courses within the MST program.
"We are updating our course content to include the latest STEM research and discoveries," Dr. Khandelwal said.
– NMT –