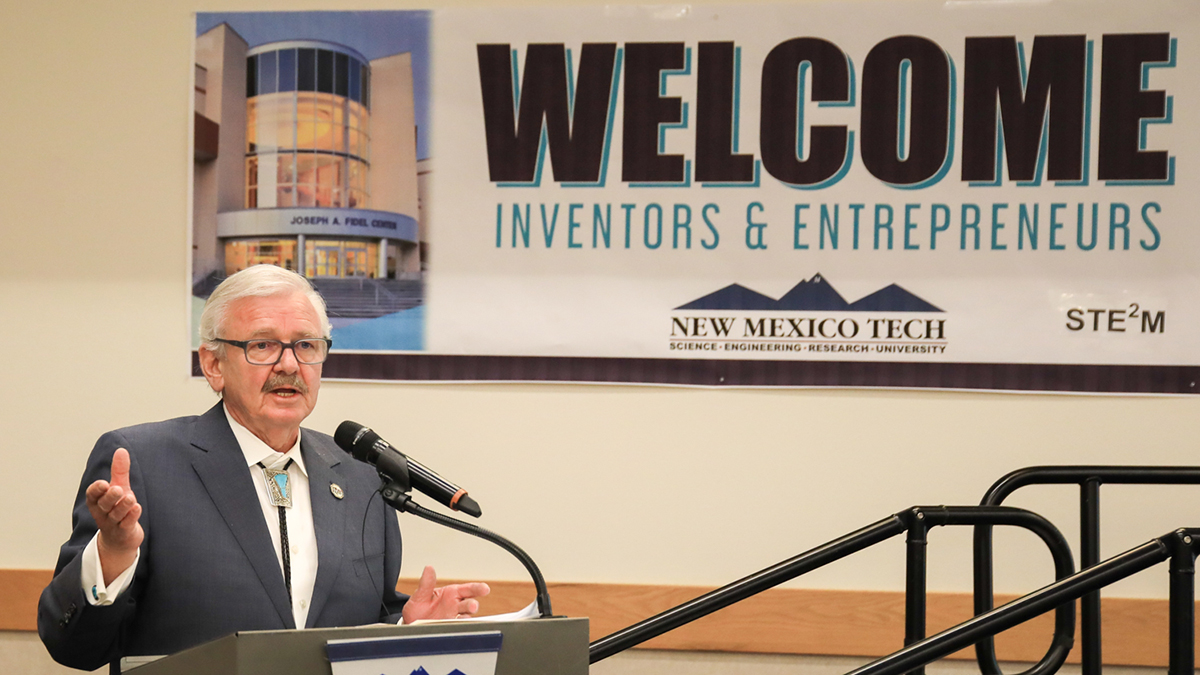 NMT Inventors & Entrepreneurs Workshop
Schedule of Events
FIFTH ANNUAL NMT INVENTORS & ENTREPRENEURS WORKSHOP
October 14, 2021 - Macey Conference Center
7:30 am
All Day Registration and continental breakfast - Hosted by Sun Mountain Capital
9:00 - 9:30 am
Welcome: NMT Moving Research Out of the Lab & Into the World
Dr. Stephen Wells, President, New Mexico Tech
Deborah Peacock, President, Board of Regents, NM Tech
Larry Udell, Adjunct Professor; Strategic Advisor, Workshop MC
9:30 - 10:00 am
NMT Technology New Ventures – Two presentations of NMT creativity
10:00 - 11:00 am
INTERACTIVE PANEL: How NMT and New Mexico are Planning for Startup Success
Moderator: Peter Anselmo, Managing Director, NMTURPC
Panel:
Dan Brooks, Sun Mountain Capital, Santa Fe, NM
John Byrom, Business Development, PESCO, Farmington, NM
Matthew Gallegos, Exec Director, Tech Transfer Collaborative Office
Craig Kenesky, Ph.D., Wilson Sonsini Goodrich & Rosati, NYC
Lorie Liebrock, Ph.D., Director, New Mexico Tech Cybersecurity Centers
Myrriah Tomar, Director, Office of Science & Technology, NM
11:00 - 11:15 am
Break & Networking - Hosted by Sun Mountain Capital
11:15 - 11:30 am
Expanding the ASCEND Bioscience Business Incubator
Stephanie Tofighi, Executive Director, NM Bioscience Authority
Ryan Cangiolosi, Strategy & Policy Director
11:30 am - 12:00 pm
Here To Help:
Molly Kocialski, Director, Rocky Mtn Regional Office, USPTO
12:00 - 12:30 pm
How Can we Help? Your Success is Our Business
John Garcia, District Director, U.S. SBA, Albuquerque, NM
Dana DeRego Catron, NM FAST, NMSU Arrowhead Center
12:30 - 1:00 pm
NMSBDC and TCA Helping You Move Forward With Your Idea
Estefanita Rawlings, TCA Coordinator/Center Director, NMSBDC Technology Commercialization Accelerator at New Mexico Tech
Christopher Garcia, Business Development Specialist, SBDC at UNM-Valencia
1:00-2:00 pm
Luncheon & Keynote, Hosted by Wilson Sonsini Goodrich & Rosati, Palo Alto, CA
Raul Deju, Ph.D., Senior Partner, Brightstar Capital Partners, NYC. Successful entrepreneur, author, NMT graduate
2:00 - 2:30 pm
NMT Technology New Ventures – Two presentations of NMT creativity
2:30 - 2:45 pm
Break & Networking - Hosted by Sun Mountain Capital
2:45 - 3:15 pm
"Why Start Your Own Business?" What Does Success Look Like?
Drew Tulchin, Successful entrepreneur, President of NM Angels.
3:15 - 4:15 pm
Investing in New Mexico's Technology Future
Moderator: Paul Silverman, CEO, Geltmore Capital, Albuquerque, NM
Panel:
Dale Dekker, AIA, AICP, Dekker/Perich/Sabatini, Albuquerque, NM
Mariann Johnston, Team Lead, Technology Engagement, LANL, NM
David J Kistin, Manager, Technology and Economic Development, Sandia
Stuart Rose, Founder, Bio-Science Center, Albuquerque, NM
Tom Stephenson, Partner, Verge Fund, Albuquerque, NM
4:15 - 4:45 pm
NMT Technology New Ventures – Two Presentations of NMT creativity
4:45 - 5:45 pm
Creating the Future --- Today. Making a Difference
Moderator: Deborah Peacock, Peacock Law, PC, Albuquerque, NM
Panel:
Lisa J. Adkins has worked in IT most of her career and has experience founding and running her own businesses. It is her mastery of all things IT, and her connections in Albuquerque and around the country that make her an effective advocate for women in tech and small business owners in NM. Lisa serves as COO of FatPipe NM, a network of collaborative workspaces for startups and small businesses; and COO of The BioScience Center, a New Mexico incubator/accelerator for startups in life sciences and biotech. An entrepreneur herself, Lisa is also co-founder and owner of Ingenuity Software Labs, Inc., a team of expert designers, developers, quality assurance technicians and subject matter experts that design and build custom software. She is a mother, a coach and mentor, an avid runner and an outspoken advocate for small business in New Mexico. As an active member and leader in the technology community, she is passionate about creating work environments in which professionals can succeed while loving their jobs and maintaining health, wellness, and balance in their lives.
Karen Crow is CEO and Co-founder of NeuroGeneces, a seed-stage, woman-led startup developing a proprietary platform for early identification of neurodegenerative diseases and neuromodulation therapeutics to enhance memory. Using acoustic stimulation, NeuroGeneces' EEG-based sleep headband and ML algorithms enhancememory consolidation that occur during sleep. NeuroGeneces' prototype is currently in clinical trials at UNM. Karen is an experienced executive with over 20 years of experience in strategy, operations and profit and loss management. A former management consultant. Karen joined the tech world in Silicon Valley. While at Google, she ran the Sales and Operations for Fortune 1000 clients in North America, Latin America and Asia Pacific. She is a patent owner and recipient of the Google Founders Award in recognition of outstanding contribution and entrepreneurial accomplishment. After leaving Google, she co-founded WiserGiving, a non-profit providing online tools for donor education. She is the mother of three high-school/middle school sons, sports enthusiast and active on several non-profit boards.
Emile Gonzales founded G2i Construction in 2006. She has since grown it in to a $15 million annual revenue company that specializes in both vertical and horizontal construction for the Federal Government. She was named the 2020 Woman of Influence by the U.S. Small Business Administration, the 2019 U.S. Small Business Administration Small Businessperson of the Year, both the 2017 and 2018 Fastest Growing Company in New Mexico and won the 2017 Merit Award for Remodel and Adaptive Reuse from the American Institute of Architects for her Los Poblanos Historic Farm/Restaurant/Hotel expansion project. Gonzales won Gold for the U.S. in London at the World Karate Championship, she is a current Iron-Man competitor, has a jumping horse farm, and plays violin. In addition to enjoying her four children, she takes great satisfaction in helping fellow small businesspeople get their start.
Monica Jojola serves as the President of Montech Inc. Established by Jojola in 2011, Montech is an award-winning, certified U.S. Small Business Administration 8(a), Woman Owned Small Business, and American Indian Corporation that offers professional and technical support services for federal and state clients and commercial customers. Under the leadership of Monica Jojola, Montech has multiyear Federal Government contracts in place with personnel in New Mexico; Arizona, California, Colorado, Idaho, Missouri, South Dakota, Wisconsin; Ohio; and Oregon. A leader in business development, Jojola has more than 20 years of successful executive experience in federal contracting opportunities, including organizing manpower and dedicating resources for multimillion competitive federal contracts. Jojola's company is a 2018, 2019, 2020, and 2021 "NM Fastest Growing Company" based on revenue. In February 2021, Jojola's company was recognized as "Patriotic Employer" by the Office of the Secretary of Defense for hiring U.S. Veterans and supporting employees when performing summer and weekend U.S. Reserve (for the US Air Force and Army National Guard) responsibilities.
Jojola's other experience includes briefing commanding officers in the southwest to Assistant Secretaries for Manpower and Reserve Affairs (M&RA) in the Pentagon, Washington, D.C. Ms. Jojola's community service includes the Board of Trustees for the University of New Mexico (2021); Team Kirtland Wingman (2021); Air Education Training Command Civic Leader (2021); 2021 Board of Directors for WESST; and 2021 Board of Directors for the American Indian Chamber of Commerce of New Mexico. Jojola is a graduate from The University of New Mexico with a degree in Political Science and Communication & Journalism. In 2017, Jojola co-authored "Indigenous Women Entrepreneurs of New Mexico: Surpassing Barriers and Stereotypes." Monica Jojola is from the Pueblo of Isleta, New Mexico.
Patricia Marquez Knighten, Director of Innovation Commercialization, Office of Intellectual Property (IP), New Mexico State University Patricia leads Arrowhead Center's office of Intellectual Property and is working to develop a more robust Lab 2 Market culture across the statewide NMSU system. She brings diverse business and program development experience, having worked in small business, high tech start-ups, Fortune 500 companies, federal research laboratories, and government. She has been the key liaison between technical teams and their customers in the aerospace, environmental, nuclear, information technology industry sectors and has planned and implemented projects for economic development and technology commercialization. Among her recent highlights was reinstating the NM Technology Research Collaborative and obtaining the $5M from US Treasury to seed the NM Catalyst Fund. Over the last two decades, she has served as a board of director for several industry associations and economic development boards. Currently, she serves as a Team Kirtland Wingman, an industry advisor to the Logistics Officers Association, and an industry forum advisor to New Space New Mexico. She has a B.S in Management/Logistics from Weber State University and master's certificates in Project Management and Lean Six Sigma from Villanova University.
5:45 - 6:30 pm
Closing comments by Dr. Stephen G. Wells, President, New Mexico Tech. Reception and prize drawings