Mechanical Engineering
Department Research
Featured Research
"Sivana is currently putting her research towards understanding how PMMA (Polymethyl Methacrylate) fractures and how shock waves propagate through the solid. PMMA is an industrial produced resin, synthesized using the polymerization of Methyl Methacrylate. It's better known as acrylic or acrylic glass. To study this, she utilized schlieren imaging techniques to watch as the shockwaves spread through the medium." -Excerpt from article by Alexandra Sartori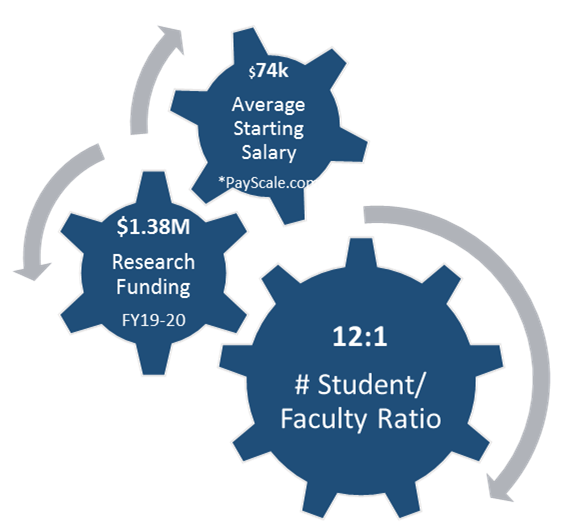 Research activity in the Mechanical Engineering department spans multiple areas including aerospace, explosives, solid mechanics, thermal-fluid dynamics, composites, structural health monitoring, aerial vehicle design, high strain-rate mechanical testing, robotics, shock physics, computational modeling, sustainable infrastructures, and capstone design education.
Faculty collaborate with each other as well as with researchers from other departments such as Civil Engineering, Materials Engineering, and Business and Technology Management. In addition, some projects involve external collaboration with researchers from the national laboratories and small businesses.
Projects are funded by federal sources (DTRA, NASA, U.S. Navy, NSF), national laboratories, and SBIR projects. The Mechanical Engineering department brought in the second highest average research dollars per faculty member for FY '19 among NMT academic departments.
-from Summary of FY19 Research Funding Click Here to Support MENG Research
Current Research
Radiation Shielding with Fluid Filled Cellular Composite
Explosively-driven shock wave and fireball dynamics
Reactive Nanocomposite Materials for Enhanced Lethality Kinetic Warheads
Effects of solute atoms and precipitates on deformation and twinning response in MgAl alloys
Experimental investigation of shock and detonation propagation through two-dimensional arrays of metal inclusions
Systematic ICME approach linking feedstocks to additive manufacturing science
Laboratory Scale Stressed Target Visualization
Fringe Projection Profilometry Applied to Measure High Rate Deformation Events
Machine-Learning for Physical Processes with Consideration of Constitutive Equations
Acoustic Emissions Monitoring of Aerospace Systems: Soaring to New Heights of Safety
Free flight density fields around ballistically launched projectiles