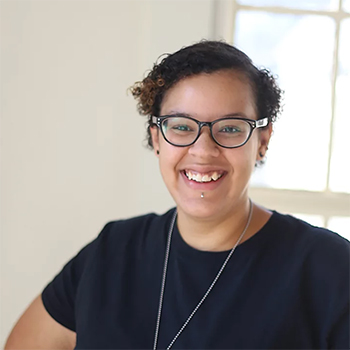 Becci Spruill, MFA
rebecca.spruill@nmt.edu • Fitch 204
(575) 835-5931
Office Hours: Email for appointment
---
Becci Spruill is the Assistant Professor of Creative and Fine Arts at New Mexico Tech. She specializes in Fine Art (specifically printmaking and ceramics), as well as Gender, Women and Sexuality studies. Becci enjoys playing video games, reading poetry, gardening, dogs, rodents, and all things spooky (particularly cryptids and ghosts). Currently she is the advisor for the Hispanic Student Association, the Society for Hispanic Petroleum Engineers, the Black Student Union, and the Alpha Sigma Kappa sorority.

She received her MFA in Visual Art (Printmaking) from Kansas State University, and her BA in Art & Sociology from UNC Pembroke.
Becci teaches courses in Design and Art History such as Video Game Art & Assets, History of Design, History of Art Survey II, App Design, and Intro to Visual Techniques in Visual Art.
Her research areas are printmaking and fine arts and is an academically trained printmaker working in traditional relief and lithographic processes. Her research and teaching lie at the intersection of technology, art and sociology, particularly the analyzing and rebelling against historically oppressive depictions of the femme body in art and society.