Avramidi and Chadde Win Top Faculty Honors at Graduation
May 12, 2018
---
Commencement ceremony includes award presentations for research and teaching
SOCORRO, N.M. – The top faculty awards for 2018 were announced at the commencement ceremony Saturday, May 12. The 2018 Distinguished Research Award was given to Dr. Ivan Avramidi of the Mathematics Department. The 2018 Distinguished Teaching Award was given to Scott Chadde of the Computer Science and Engineering Department.
The recipient of the Distinguished Research Award is chosen by a committee of Tech faculty and researchers from a list of candidates nominated by their colleagues. The Distinguished Teaching Award is selected by a committee of former winners from nominations submitted by current students.
Dr. Ivan Avramidi
Dr. Avramidi earned his Ph.D. at Moscow State University in 1987 in theoretical and mathematical physics. For the next 12 years, he fulfilled research fellowships and teaching positions in Russia, Germany, Italy, and Iowa.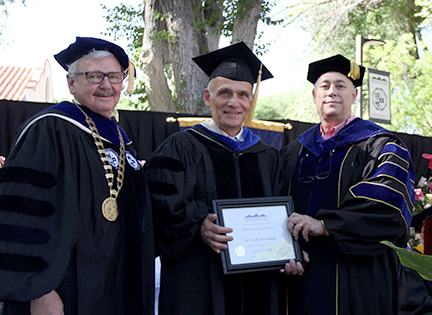 Avramidi joined the New Mexico Tech mathematics faculty in 1999 and had developed an international reputation for noel and innovative research. He has more than 60 publications, two books, and more than 50 refereed papers. His papers have been cited more than 1,500 times in Google Scholar with one paper cited more than 210 times.
(Pictured at right: Dr. Ivan Avramidi (center) receives the 2018 Distinguished Researcher Award from President Stephen Wells (left) and VP of Research Dr. Van Romero.)
His most recent book, Heat Kernel Methods and Its Applications, is intended for advanced undergraduate or beginning graduate students in physics and mathematics. However, the book also provides a useful reference for professional physicists and applied mathematicians, as well as for quantitative analysts and financial industry practitioners. He has become a sought-after speaker on the topic of quantitative analysis in the financial industry.
Avramidi's nomination for this award was supported by colleagues at NMT, Texas A&M, Baylor University, and the University of Naples.
One colleague wrote that Dr. Avramidi's "research achievements are masterpieces of the highest conceivable standard. He has the peculiar skill of being able to arrive at elegant and concise formulas out of a desperately complicated calculation."
Scott Chadde
Scott Chadde joined the New Mexico Tech faculty in 2011 as an instructor in the Computer Science and Engineering Department. He earned his bachelor's at the University of Wisconsin-La Crosse in 1991 and his master's at the University of Montana in 1994.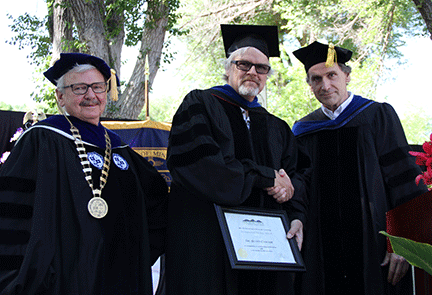 Ever since completing his formal education, Scott has maintained a lifelong pursuit of knowledge, taking continuing education courses in math, electrical engineering, and computer science. His love of learning – and teaching – was the prime factor in him earning this award.
(Pictured at right: Scott Chadde receives the Distinguished Teaching Award from President Stephen Wells (left) and VP of Academic Affairs Doug Wells.)
His nomination was supported by 15 students who had glowing compliments about Scott's teaching style and effectiveness.
One student wrote "Scott makes the effort to know each of his students personally despite teaching several large classes."
Another wrote, "Scott is by far the most influential instructor I've had at New Mexico Tech. Without Scott, I would not have found a new passion in Computer Science.
Not only is he an incredible teacher, but he also cares about his students and will help both in and out of class. He has done an excellent job teaching the fundamentals to hundreds of Computer Science students, contributing immensely to Tech's reputation as a top-quality technical institute."
Yet another wrote wrote, "Scott has done an extraordinary job of preparing me for higher-level classes. His lectures are clear and his assignments are fun and very helpful."
Click here for the official program from the 2018 Commencement Ceremony