College Choice Ranks NMT Highly For Master's of Engineering Management Program
July 10, 2018
---
Tech Slotted as No. 9 For Value, and No. 11 for Quality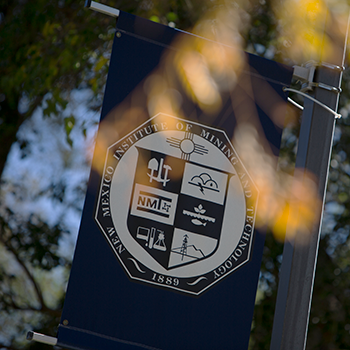 SOCORRO, N.M. – New Mexico Tech received new accolades from the College Choice website. The online resource ranked NMT as No. 9 in the nation for most affordable online Master's in Engineering Management and No. 11 in the nation for best online Master's in Engineering Management.
Dr. Frank Reinow, professor in the Business and Technology Management Department, said these new rankings validate the quality of the MEM program.
"There are things about this program that are unique in terms of what other universities are doing in engineering management," Reinow said. "It's wonderful that they've recognized us. When you look at the rankings, you see other schools that have national recognition. That says something about our program."
Management professor Dr. Peter Anselmo started the MEM program in 2003. He said this is the first time that the program has been recognized by a national ranking system.
"To me, the No. 11 ranking is great because we have our emphasis on quality and analytics recognized," he said. "That's very gratifying. The proof is in our students and what they've achieved."
the 35 Best Online Master's in Engineering Management Programs
25 Affordable Online Master's in Engineering Management Programs
The Master's of Engineering Management, or MEM, program at NMT is somewhat unique in that it requires a rigorous independent study project. Most students come to the master's program with a project from their employers. Students are often mid-career engineers from public institutions like the national laboratories or the NSA or private companies like Intel. The degree requires 30 credit hours, including the independent study project. At NMT, the MEM project culminates with a written report that is submitted to faculty advisors and to the Graduate Studies Office for formal approval.
"We find out pretty quickly that students have a project of specific interest to their employers," Reinow said. "A lot of times these projects focus on optimizing the use of resources to solve a problem."
Anselmo said it's quite common for MEM students to earn promotions as a result of their degree and project – sometimes even before they finish their projects.
"Interestingly, we are somewhat selective in admitting people, but we've had almost no drop-outs," Anselmo said. "The results reinforce that what we are doing is good and on the right track. We know the analytics are useful and timely; and we know that our students are getting a lot out of the program."
Fred Berl, a 30-year employee at Los Alamos National Laboratory, is a recent graduate of the MEM program. He praised the faculty the breadth of instruction and for developing connections to his cohort of students around the nation.
"My coursework was rigorous and intellectually stimulating, and many of my courses have provided me with advanced skills that will be invaluable for my career in technical management," he said. "My education at NMT has truly been transformative."
Berl completed two major projects as part of the MEM program. He won Department of Energy Excellence Awards for his project. He credited the program with giving him the tools to be successful and earn professional recognition.
In recent years, the program is also seeing students who enter the program immediately after completing a bachelor's at NMT. A number of students are also combining the MEM program with another master's or Ph.D. program at Tech.
Reinow said the MEM program is completely online, but students take classes synchronously. They must log in for lectures and participate in class.
"The other part of the program that is unique beyond research is that the courses are meant to be rigorous," Reinow said. "Also, the courses are always in the process of updating, which is a big advantage at a small school. It doesn't take long to update our courses."
The Department also added a Certificate Program in Technology Leadership for the Spring 2018 semester. That offering requires 15 credit hours – 12 in the classroom and three for the independent study project. Reinow said that is becoming popular with engineers who are interested in adding to their skill set without taking on a full master's work load.
– NMT –