NMT and Los Alamos National Labs Sign New Cooperative Agreement
October 18, 2018
---
Pact makes future collaborations easier for both university and laboratory
SOCORRO, N.M. – New Mexico Tech (NMT) and Los Alamos National Labs (LANL) hosted a ceremony to sign a landmark Institutional Agreement that that provides staff from both institutions unprecedented access to research and allows for academic appointments for LANL staff so they can teach classes at NMT. The ceremony was Thursday, Oct. 18, at the New Mexico Bureau of Geology and Mineral Resources.
University president Dr. Stephen Wells said the new agreement will benefit both organizations, scientists, and NMT students.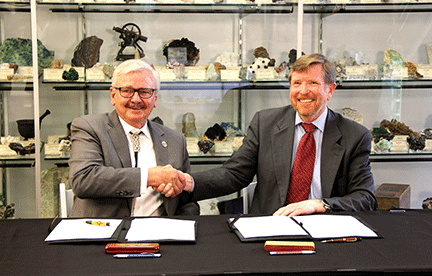 Dr. Terry Wallace, LANL Director and an NMT alumnus, said he hears from lab scientists that they want more interaction with academia.
(Pictured: Dr. Stephen Wells (left) of NMT and Dr. Terry Wallace of LANL shake hands after signing the Institutional Agreement on Thursday in Socorro.)
"We have a hue and cry for better academic connection," he said. "This is a key to revitalizing the lab and I'm pleased that it's New Mexico Tech. Tech's proven tradition perfectly aligns with what we do in Los Alamos."
This five-year agreement provides an official mechanism to build joint appointments between NMT faculty and LANL staff, allowing each to function in the same capacity at the other's facilities. NMT faculty will now be provided the status and freedom to work with LANL staff members and their research. LANL staff members will now have appointments in NMT academic departments, allowing them to teach and work with NMT students and faculty, and grants them access to NMT research.
NMT is now the only university in New Mexico to have this status at LANL.
LANL Director Terry C. Wallace and NMT President Stephen G. Wells signed the agreement.
"I'm very excited about this monumental agreement and the impact it will have for both institutions and the state of New Mexico," Wells said. "This five-year agreement provides an opportunity for Tech students to work more closely with LANL's elite researchers and foster home-grown innovation and economic development for New Mexico."
Previous to this agreement, NMT faculty and staff operated at LANL as visitors, highly restricting their access. This agreement updates their status so that they operate as staff, thereby streamlining their access to important research and information.
– NMT –