Four Stellar Students Named 2017 Macey Scholars
jun 15, 2017
---
New Mexico Tech has named four outstanding seniors as Macey Scholars for the 2017-2018 school year.
Macey Scholars are academic standouts, as well as "super-citizens." They represent the best of and most well-rounded Tech students – brilliant young scientists and engineers who are involved in their communities and give of their time to worthy causes.
"New Mexico Tech is very fortunate to have the generous support of the William B. Macey family to recognize some of our most outstanding students," said Elaine DeBrine Howell, the scholarship committee chair. "I am in awe of the strength of character and stunning accomplishments of this year's winners."
The Macey Scholarship is among the most prestigious scholarship awarded at New Mexico Tech. The program is named after 1942 New Mexico Tech graduate William B. Macey. Mr. Macey has been among the biggest supporters of New Mexico Tech over the years, including significant contributors to the Macey Center building fund in the early 1980s and the Macey Family Childrens Center in recent years.
Macey Scholars are Tech undergraduate students who have a cumulative GPA of 3.4 or greater. Qualified students apply for the program, along with nominations from faculty and staff members, employers and research associates. Those selected as Macey Scholars receive an award of $5,000.
The selections are based upon accomplishments in the classroom, research laboratory, service projects, volunteerism, awards, honors and other activities. Each of the 2010 winners have an impressive resumé, full of research projects, internships, volunteer work and extracurricular activities. They are all well-rounded young scientists who have marked their careers at Tech with academic achievement, campus involvement and devotion to helping others.
Allie Arning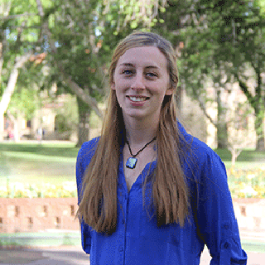 A junior in the Civil and Environmental Engineering Department, Allie Arning's nomination was supported by professors Dr. Clint Richardson and Dr. Frank Huang.
In her essay, Arning wrote that she was convinced to attend New Mexico Tech after visiting campus with a friend as a high school senior. She was reluctant to pursue a STEM degree because she struggled with math in high school. She was initially overwhelmed by the workload at Tech, but she sought out help.
"I was determined to use my resources and succeed," she wrote. "I would spend hours on homework in the OSL. Instead of being put off by these challenges, I was excited by them. I began to notice the results of my hard work when I took Calculus III and found myself achieving notably higher scores."
Arning's early hard work paid off and she has excelled in the classroom ever since. She also has been involved in a variety of campus clubs and organizations. She first worked at the Performing Arts Series, and worked on Paydirt. She was also part of the Watershed Living Learning Community. That research project lead to a poster presentation at the Student Research Symposium and reinforced her desire to work in a field that deals with the environment.
Now, she is also the president of the Environmental Engineering Club and the student chapter of the American Water Works Association.
"This club was an important outlet for me when I was struggling during my first year, and I wanted to provide that support for other students," she wrote.
Arning has been admitted to the five-year B.S./M.S. program at Tech in environmental engineering, specifically in water treatment.
Arning joined Dr. Huang's research group in 2015, working on the Osmotic Power Development team. Huang said that Arning has shown a great interest in membrane desalinization and is in charge of developing a technique to determine the could point of polymer solutions.
In his nomination letter, Huang said that Arning has "clearly demonstrated that she not only has sound technical foundation and excellent communication skills, but is also hard-working, dependable, and a team player."
Richardson credited Arning with being an enthusiastic and active leader among her peers. She organized a panel of engineering professionals to interact with students. "Through these activities, Allie has reached out to other students to make them feel like a part of the community," he wrote.
Matthew Davenport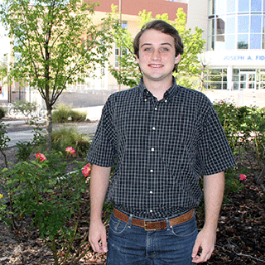 A junior in chemical engineering and math, Davenport's nomination was supported by Dr. Michaelann Tartis, Drea Killingsworth of the OSL, and Dr. Rajendra Vaidya of Los Alamos National Laboratory.
"I chose to attend New Mexico Tech because I wanted to focus on academics during undergrad," Davenport wrote. "The incredible community I found here didn't just welcome me, it excited me."
Davenport joined the explosives/aerospace Living Learning Community and was immediately inspired. Ever since, he has been a tutor at the OSL and a learning coach for other LLCs. Killingsworth said he has been a highly productive tutor, handling more than 3,000 individual visits over three years.
"I profoundly appreciate New Mexico Tech's excellent student resources, scholarships, and job opportunities," he wrote. "Wherever I go, I will spread the ideals of mentoring, fellowship, and excellence that NMT fostered with me."
"Matt is a valuable member of the OSL team and excels at providing a trusted environment for students seeking help," Killingsworth wrote. "I have complete confidence in his abilities academically, as a very competent researcher and as part of the Office for Student Learning."
Davenport has been active in the student chapter of AIChE since his sophomore year. He helped resurrect the chemical car competition, helping the NMT team place fifth at the 2016 event. He was also part of the Chem-E Jeopardy team that earned second place nationally at the 2016 AIChE national conference.
Davenport has worked for two years at Los Alamos National Laboratory, where he is working on safe storage of radioactive materials. He is designing a fully automated system that uses non-destructive ultrasonic testing to determine whether a container is corroded. He has presented research at two student symposia at LANL.
Dr. Vaidya of LANL said Davenport has been instrumental in designing and setting up an experiment to test the radioactive material containers.
"Matthew is driven by his work and the quality of his work product is exceptional," he wrote. "He has excellent people skills and has demonstrated an ability to work with individuals with a diverse set of expertise. He is well organized in his research and has an excellent ability to comprehend problems and apply solutions."
Jared Lam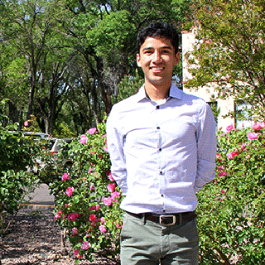 A junior in environmental engineering, Jared Lam's nomination was supported by Dr. Kip Carrico and Dr. Frank Huang.
A native of Socorro, Lam attended UNM for 3 semesters before transferring back to Tech. "The availability of research opportunities is what brought me to NMT in the first place, and I expected to take advantage of these resources," Lam wrote. "I didn't explect that I'd also have the opportunity to explore a myriad of other resources during my NMT experience."
Lam has been involved in student clubs, part-time jobs, leadership positions, and networking. He has been involved in the Environmental Engineering Club, Tau Beta Pi, QuASAR, and Techies Stand Up. In addition to research work, Lam has also worked at Animal Haven Veterinary Clinic and the NMT Travel Office.
His initial research experience was with Dr. Huang membrane processing course. He later joined Dr. Carrico's directed study research. He is currently using a nephelometer, which measures light scattering by aerosols in ambient air. He will continue that work this summer at LANL with Carrico this summer.
Huang wrote that Lam volunteered to do research during his first few weeks on campus.
"I was impressed by his commitment to enhance his knowledge base and therefore invited him to take a graduate-level course," Huang said. "Jared has good technical foundation, excellent work ethic, and good communication skills. He is also dependable and very much a team player."
Carrico said Jared was a top student in his intro course and mas mastered every challenge given to him – homework, tests, writing, field measurements, and presentations.
"He is always engaged, involved, and on-time or ahead of schedule," Carrico wrote. "I used his homework assignment as the model for the class of how an engineer approaches and solves problems in a methodical manner. … what has been even more impressive is his zeal and initiative in the lab. … A remarkable note regarding Jared is he is equally capable with hands-on work, something rarely seen with undergraduate students. He was a natural from his first day working in the lab."
Lam has been interacting with senior level scientists at NOAA in Boulder and engineers at the instrument vendors. Carrico said he only had to provide minimal input when Lam was learning how to use lab instrumentation.
"I believe he has a bright future in the environmental engineering field and is fully capable of pursuing a research science career. … I think he has the raw intellect to become one of the top climate scientists, which seems to be a strong interest of his," Carrico wrote.
Bradley Miller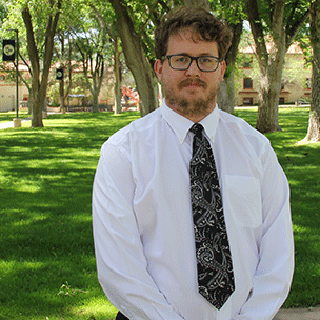 A junior in chemical engineering, Miller's nomination was supported by professors Dr. Sanchari Chowdhury, Dr. John McCoy, and Dr. Curtis O'Malley.
Miller maintains a 4.0 GPA and is proud of the fact that he's never missed a class. He attended San Juan Community College before transferring to NMT.
He received the Student Excellence Award in math and in physics at San Juan. Since arriving in Socorro, he's been involved with the Chem-E Jeopardy Team, Tau Beta Pi, and AIChE.
For more than a year, he's been working in Dr. Chowdhury's lab, which has lead to him presenting posters at multiple conferences. He is working on a paper that he hopes to be published.
Chowdhury wrote that "Full of questions, he regularly participated in class discussions and probed the materials with a zest for learning. Because of his superior performance in my class, I was excited to give him an opportunity to work in my research lab."
Miller is studying the fluorescence-quenching effect of defect-free and defect-rich 2-D materials like grapheme and MoS2.
"I am impressed with not only his knowledge, but his capacity for communicating ideas in an understandable manner to other team members," Chowdhury wrote. "He is the most hard-working kid I have ever seen in my career. Even though he is not an official tutor on campus, he frequently helps his junior students to understand difficult problems. He has a passion for mentoring and teaching."
O'Malley praised Miller for his abilities and ambition. He wrote that Miller lead a team research project that successfully designed and analyzed a structure far more complex and involved that the project required. He also said he would offer Miller a research position if he weren't already working with Chowdhury.
"His character and work ethic lead me to believe Bradley will go on to be an outstanding ambassador for NMT throughout his professional career," O'Malley wrote.
McCoy, in his nomination letter, said that Miller was the top student in both classes he took from McCoy. He further called Miller "one of the most promising students I have seen."