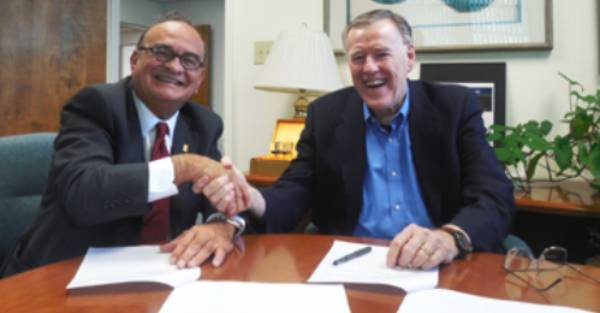 (NMTAA)
New Mexico Tech Alumni Association
New Mexico Tech Alumni Association website
New Mexico Tech & NMTAA MOA
Since the spring of 2009, the Board of Directors for the New Mexico Tech Alumni Association (NMTAA) sought to enter into a formal agreement with New Mexico Tech that would outline obligations NMTAA would be willing to take on that would benefit the alumni of the Institute and the Institute as well.
After many meetings between NMT officials and members of the NMTAA Board of Directors, and after the production, reviewing, and editing of several versions, a Memorandum of Agreement (MOA) was signed on May 9, 2014 by Dr. Dan Lopez, former President of New Mexico Tech, and by Mr. John Dowdle, President of the NMTAA Board of Directors.
The MOA outlines many things the NMTAA will do for its membership and for the Institute, not all of which can be done immediately. Recall that the NMTAA was reorganized as a nonprofit corporation under the laws of the State of New Mexico in the summer of 2012. We were notified by the Internal Revenue Service on July 17 that we were granted tax exempt status, and we are now a 501(c)(3) organization. This now makes it possible to secure and handle funds that will be needed to fulfill all the obligations listed in the MOA.
New Mexico Tech, too, takes on a significant set of obligations in the MOA. It has to meter the degree to which those obligations are fulfilled in any one year because of certain New Mexico state restrictions (both constitutional and statutory) regarding how the Institute interacts with a private entity, which by virtue of its incorporation, the NMTAA has become.
The road to this point in the relationship between New Mexico Tech and the NMTAA has been a bumpy one at times, but goodwill has been steadfastly maintained at all times, and both parties are unwavering in their intention to serve alumni of Tech, current students at Tech, and the Institute as a whole.
Members of the Board of Directors for the NMTAA are grateful to Dr. Dan Lopez for the seriousness with which he approached these prolonged discussions. We are also grateful to Ms. Melissa Jaramillo-Fleming and Ms. Colleen Guengerich Foster for their facilitation of the process by which we arrived at closure on this agreement and its signing on May 9, 2014.
We look forward to continuing our productive and mutually beneficial working relationship.