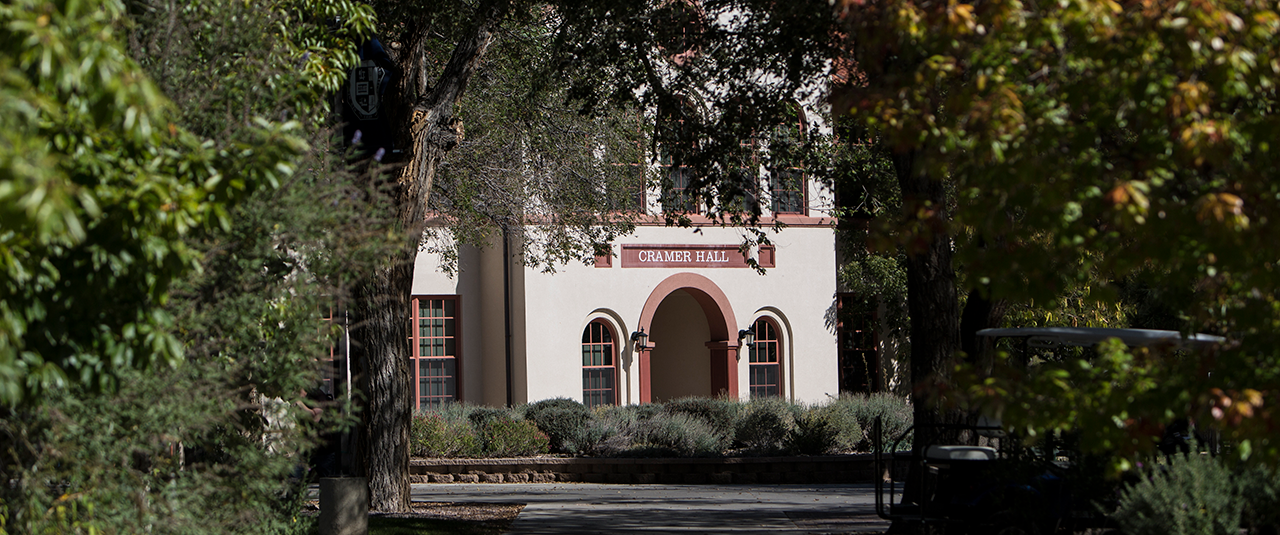 Department of Psychology and Education
Masters of Science for Teachers
Ready to Apply?
Contact: Megha Khandelwal, PhD.
Master of Science for Teachers Program
Email: megha.khandelwal@nmt.edu
Phone: 575-835-5470
Office: Cramer 132A
Distance Learning
The Masters of Science for Teachers program is offered throughout the year via distance instruction and as live courses on the New Mexico Tech campus and around the state.
Course Info
MST courses are offered during the summer in five two-week, intensive segments. Typically, a course from each distribution area (Math, Chemistry, Physics, Biology, Geology, and Engineering/Computer Science/Economics) is offered during each session, depending on the anticipated enrollment. These courses may run the entire two weeks or for only one week. Students may register for as many or as few courses as they like each summer, but they may only take one course in any given time period.
The majority of courses during the academic school year are offered via distance learning or live in population centers (i.e Albuquerque).
Most MST courses are two credit hours, meeting at least 30 contact hours. One credit hour courses must meet at least 15 contact hours. Only in rare circumstances are MST classes more that 2 credits, usually in the case of extended summer research situations. Students should expect to spend 45-60 hours per credit hour.
Courses are added to the program based on the expressed desires of the students, faculty availability, and on the needs perceived by the MST Advisory Committee. All courses must be recommended first by the MST Advisory Committee Member most versed in the subject matter and then approved by the committee. The Graduate Council and The Faculty Senate must then approve the new offering.
Required MST Courses are typically offered every semester. These courses are offered via Distance Learning or in a population center in fall and spring. They are offered as live on-campus courses (or in a population center) during the summer. Survey of Physics is offered in the Summer ONLY on the NMT Campus. Every effort is made to offer every course at least once every year.
For many courses, students may earn one additional credit by registering for a Directed Study. This study is carried out during the following academic semester and usually involves research into a subject area or application of course materials into the student's own classroom. Directed Studies each carry different learning objectives and must be agreed upon in writing by both the student and instructor.
Full course descriptions for MST courses can be found in the NMT catalog. Current course descriptions can be found on-line, along with prerequisites and distribution area requirement satisfaction.
Special weekend workshops are offered throughout the year to introduce students to new concepts. These are generally 2-3 day intensives offered for one credit hour.
Augmenting the traditional MST Program are Special Research and Travel Opportunities presented as funding permits.
MST students are encouraged to participate in current research projects with MST faculty, enhancing their graduate experience and providing research opportunities for their own students.
To enhance faculty-MST student-K-12 student communication and learning, NMT offers the Consulting Scientist Program, in which Tech faculty visit high schools, middle schools, and junior colleges to give talks and work with teachers and their students. This program complements the MST outreach efforts, and helps with special projects as well as meeting with classes to give a topical presentation. This also gives NMT faculty a better idea of teachers' needs, and puts high school students directly in touch with college faculty. This program is coordinated through the NMT Admission Office.
To view the New Mexico Tech Graduate Catalog and the Program & Course Catalog, Click here.
History of the MST Program
History
The Master of Science Teaching (MST) Program at the New Mexico Institute of Mining and Technology (NMT) was initiated in 1969 at the urging of then Governor of New Mexico, Jack Campbell. Governor Campbell recognized a serious need to improve precollege science and mathematics instruction in the state. He suggested a summer program of graduate level science and mathematics courses for high school teachers. NMT was approached for the program because of its recognized leadership in the fields of science and technology.
The program was initiated and nurtured by Clifford Keizer, of the NMT Chemistry Department, who served as its Coordinator for about ten years. The program was then taken over by Clay T. Smith of the Geoscience Department, who turned the program over to Carl J. Popp in 1982, when Dr. Smith retired. Carl Popp coordinated the program for one year, followed by David K. Shortess, of the Biology Department, who served as Coordinator from 1983 through the summer of 1989. From 1990 until 1996, Donald Brandvold, Department of Chemistry, coordinated the program. In 1996, Vannetta R. Perry took over as Coordinator and served through 2001, at which point Marisa Wolfe assumed the role of Coordinator. In July, 2005, George Becker took over, retiring in August of 2017 and was replaced by Megha Khandelwal.
Mission Statement
Teacher enhancement - Training of teachers in the mathematics and science content areas will enrich the classroom experience of students, with the expectation of increased math and science literacy of all students and increased student interest in math and science careers. This is especially true for pre-college and Advanced Placement curricula as MST courses emphasize current and updated information and teaching methods. Importantly, NMT faculty follow-up permits continued MST student and faculty interaction, thus sustaining and reinforcing concepts and information delivered during MST coursework. MST graduates have traditionally continued taking NMT courses as a means of staying up-to-date on advances in STEM.
Community outreach - As a public institution of higher education, New Mexico Tech has an obligation to serve the citizens of the state. The Master of Science for Teachers Program provides an opportunity for New Mexico Tech to provide high quality graduate science and math education to educators statewide and opens communication between NMT faculty, MST students AND their students. This is notably important for MST students from rural areas and for teachers wishing to enhance their own course content and diversity.
Recruitment - Educators who participate in the Master of Science for Teachers Program are genuine spokespersons for New Mexico Tech, often encouraging their own students to attend the university following high school graduation. It is also significant that MST graduates are important liaisons, acting to promote the MST Program to other teachers.
Objective and Goals
MST Program Objectives
To enhance the development of dynamic learning communities comprised of university faculty, MST students, and students of MST students.
To provide current, applicable Science, Technology, Engineering, and Mathematics (STEM) content to MST students, consistent with principles of effective practice in facilitating adult learning including the promotion of collaborative spirit among NMT faculty, students, and STEM professionals; the respect of students' uniqueness and separateness; provision of opportunities for the systemic and altering process of exploration and investigation, i.e. reflection on action, more exploration and investigation, more reflection on action; and last, the encouragement of self-directed learning that considers alternate ways of thinking, learning, and assessment.
To enhance classroom teaching and learning through the acquisition of in-depth STEM content knowledge and mastery of successful, effective pedagogical strategies and approaches.
To enhance the development of the abilities of MST students to apply vertically integrated curriculum through utilization of national teaching and content standards and Advanced Placement, thus contributing to the development of the educational pipeline carrying students to STEM careers.
To provide research opportunities for teacher-participants and their students in collaboration with university faculty.
To provide distance learning opportunities via webcasting and frequent on-line interaction between university faculty, teacher-participants, and their students.
Goals of the MST Program
Encourage MST students to incorporate MST experiences into curriculum development.
Provide access to innovative and current classroom, laboratory, and field experiences in science, mathematics, engineering, and technology.
Provide examples of applications of the subject matter to industrial, technological, and environmental problems of the real world.
Canvas Access
Canvas Login
URL: https://nmt.instructure.com or learn.nmt.edu
USER NAME: student ID (9-digit 900#)
First time user PASSWORD: Date of Birth in YYYYMMDD format
If you know your 900# and your Tech email address but your DOB doesn't work for your password, click the "Don't know your password?" link and submit your Tech email address.
To change your Canvas password, login to Canvas and:
Click on your "profile picture" in the upper left
Click "Settings" link
Click the "Edit Settings" button on the right.
Click the "Change Password" box and fill in the password fields that appear.
You can also add an email address or other contact means (like SMS texts) on this screen, in addition to changing your notification preferences.
If you are still unable to login to Canvas, please contact ACT at act@nmt.edu or call 575-835-6700 (toll-free 866-644-4887).
Want to know more?
Visit the Canvas Student Getting Started Guide here:
Online Registration
Navigating Online Registration
1. Visit Banweb at https://banweb.nmt.edu.
2. Login by clicking ENTER SECURE AREA. Words that are like THIS in this document are links or buttons that you can click when you are in or at Banweb.
3. Enter your User ID (NMT ID) and your eight character PIN (not your APIN).
a. If this is the first time that you are entering the secure area, then you must enter your 9-digit User ID (your ID will begin with "900" and you should have received your ID from the Graduate Office either via email or snail mail – your User ID is also referred to as your NMT ID) and you must also enter an eight character PIN (this will be your NMT Computer Center account password).
b. Once you successfully login you will be asked to change your PIN. You will also be asked to create a security question. If you ever forget your PIN, then you can click the FORGOT PIN? button and if you answer your security question correctly, your PIN will be reset to your six-digit birth date (mmddyy).
c. LOCKED OUT? If you get locked out of Banweb, which can happen if you enter your PIN incorrectly three times, then you must call the Registrar (575.835.5133). Also, after 30 minutes of no activity, you will automatically be logged off of the Banweb.
4. Click LOGIN
5. Click STUDENT AND FINANCIAL AID
6. Click REGISTRATION
7. Click ADD/DROP CLASSES
8. Select the appropriate term and click SUBMIT
9. Enter your Alternate PIN (APIN – more information below) and click SUBMIT
a. You receive a new APIN from your advisor every semester -- the APIN acts as your advisor's approval of the courses you are taking.
10. Enter Course Reference Number(s) (CRN) To find CRNs:
a. Click on CLASS SCHEDULE (https://banweb.nmt.edu). The list contains the CRN, subject, course number, section, credits, title, meeting days and times, meeting locations, and instructor. MST courses are listed under "Science Teaching".
11. Click SUBMIT CHANGES
a. If you registered for independent study (or another variable credit course), then you should be able to adjust the number of credits that you are registered for by clicking:
i. 1.000
ii. Enter appropriate number of credits
iii. SUBMIT CHANGES
iv. When you click the SUBMIT CHANGES button the screen may not appear to change, but you can verify the changes by skipping to step 12.
b. If you are registered for independent study (or another variable credit course), then you can adjust the number of credits that you are registered for another way by clicking:
i. STUDENT AND FINANCIAL AID
ii. REGISTRATION
iii. CHANGE CLASS OPTIONS
iv. Enter appropriate number of credits
v. Click SUBMIT CHANGES
c. When you click the SUBMIT CHANGES button the screen may not appear to change, but you can verify the changes by skipping to step 12.
12. It should display that you are registered; however you can verify that you are registered by clicking:
a. STUDENT AND FINANCIAL AID
b. REGISTRATION
c. STUDENT DETAIL SCHEDULE
13. Once you have verified your registration you can view your account balance and make a payment by clicking:
a. PERSONAL INFORMATION
b. ACCOUNT SUMMARY BY TERM (This allows you to view your balance broken down by semester).
c. MAKE AN ONLINE PAYMENT (This allows you to make a payment).
Banweb 1st time Access
Frist Time Access to BanWeb
1. Send an email to the Registrar's Office at registrar@nmt.edu
a. Include a scanned copy of your driver's license/ state issued identification card or a passport.
b. Include your name and student number (900#)
c. Request a BanWeb password (PIN)
2. Once you have the BanWeb password you can access BanWeb
a. Method 1: Direct URL https://banweb7.nmt.edu/pls/PROD/twbkwbis.P_GenMenu?name=homepage
3. Enter your:
a. USER NAME: student ID (900#)
b. BanWeb password
4. The email from the registrar should have included an attachment with further instructions.
Sample Independent Studies
Biology Sample IS "Discovery Learning Ecology Unit"
by Stephanie Mitchell
Chemistry Sample IS"Using Improvised Instructional Materials to Teach Chemical Methods"
by Dorothy Mensahl
Geology / Earth Science Sample IS "Effectiveness of the Integration of a STEM career awareness program in a regular Geology Class in Increasing Awareness and Knowledge of Geoscience"
by Geizi E. Llanes
Math Sample IS "Conic Sections in Context"
by Elizabeth Richardson
Physics Sample IS "A Puzzle Assembled"
by Carrie Gongaware
Misc Sample IS 01 "Teaching Science in Elementary School: Using Field Trips to Support Guided Inquiry Lessons"
by Karen F. Gram
Misc Sample IS 02 "Bridging the Gap between STEM Professionals and K-12 Education"
by Estike Gutierrez